Regal Continues to Make Waves in the Industry
It appears Buick's hottest selling sedan has led to the manufacturer's 23rd straight month of retail sales gains.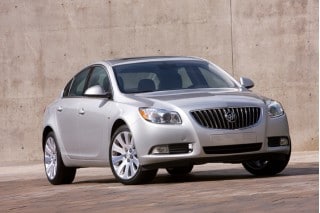 According to a press release sent out by the Detroit-based car manufacturer Buick today, August Regal Turbo sales could potentially reach an all-time high since the car's launch in
Spring, 2010.
The most interesting part about the increase in sales is that nearly half (45 percent) of Regal Turbo buyers are switching from non-GM brands.
During the month of July this year, Regal outsold many similarly sized vehicles. The brand's steady, month-over-month gains, have also helped it coast through the recent "rocky road" in the luxury vehicle market.
Coincidentally, the
U.S. News and World Report
recently named the regal the Best Upscale Midsize Car for Families for 2011, ranking it No. 1 our 21. The statistics were based on an analysis of 27 published reviews, test drives of the Regal, and a comprehensive analysis of safety and reliability data.
Fans of the Regal will also have something for their mouths to water over this fall as well when the company releases its 2012 Regal GS and fuel-efficient 2012 Regal with eAssist to
Buick dealers
.