GMC Sierra 3500HD Wins Best Overall HD Truck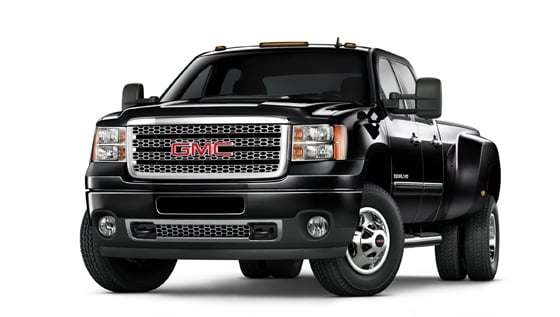 The GMC Sierra 3500HD won PickupTrucks.com's "Heavy Duty Hurt Locker "comparison test, a grueling showdown among industry heavyweights that included towing 19,000-pound fifth-wheel trailers up and over some of the most demanding grades in the United States.
"We procured similarly equipped trucks from Ford, Ram and GMC and put them through the paces towing up and down some of the toughest grades in the country covering a total of 2,200 miles," said Mike Levine, editor of PickupTrucks.com. "When we analyzed the data, the GMC Sierra 3500HD simply outperformed the trucks from Ford and Ram."
"Customers choose full-size trucks for their capabilities," said Rick Spina, vehicle line executive for full-size trucks. "So for 2012, we built on the foundation created in 2011, with engineering changes and additional validation designed to make the most capable heavy-duty pickup even better. Based on PickupTrucks.com's test results, it looks like we got the job done."
For enhanced fifth-wheel towing, engineers strengthened the pickup box sills and other box structures, rear springs, u-bolts, and box mounts, and upgraded the shock tuning. As a result, Sierra 3500HD now has a best-in-class tow rating of 23,000 pounds, up from 21,700 pounds in 2011.
Sierra also will lead the class in dually payload, with a 7,215-lb. payload for the 3500HD regular cab gasoline dually. Updates to the trailer hitch receiver increase conventional towing to 18,000 pounds, up from 17,000 pounds last year Both changes will be on models arriving in dealerships in the fourth quarter.
"We know heavy-duty pickups are one of the most-competitive segments, with some of the most knowledgeable customers there are," said Spina. "So for 2012, we worked on making our trucks even more capable than before."
Other updates for the 2012 Sierra Heavy Duty trucks include a new navigation radio with enhanced display that has a hard drive, eliminating the need for discs with map data.