GMC 101: What's in a Name?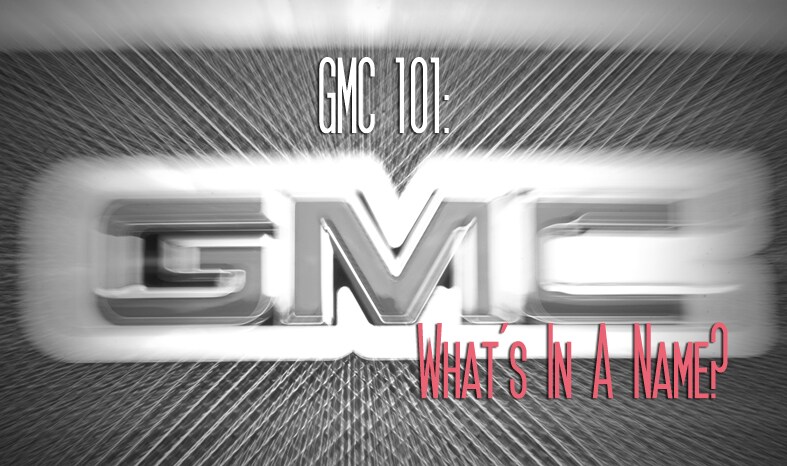 It's time for a brief history lesson.
In 1912, three major truck builders, Randolph, Reliance and Rapid joined together to form GMC. Back then, the company's trucks were powered by gasoline and electricity, and all models were given numbers between one and 12, designating their carrying capacities in thousands of pounds.
But these days, what's
REALLY
in a name? (At least when it comes to a
GMC pickup truck
).
Modern truck labels continue to use the designations, "½-to n", "¾-ton" and "1-ton," despite their minimal application to the carrying capacities of today's full-size pickup trucks. For example, a 2013 GMC Sierra 1500 ""½-ton" can carry anywhere from 1,550 to 1,940 pounds; this is far more than the 1,000 pounds implied by its original designation. Furthermore, a one-ton Sierra 3500HD can carry as much as 7,215 pounds, which is about four times the ton expressed by its name.
According to General Motors Heritage Center Manager Greg Wallace, "The payload-based naming convention for pickups existed right from the beginning. The ½-ton, ¾-ton, and 1-ton models became most popular with retail customers over a few decades, not just for GMC but all manufacturers. While payload capacities have grown since, those three names stuck."
Similar to payload designations, GMC also headed other popular naming trends for pickup trucks. In 1967, GMC was the first auto maker to use the numbers 1500, 2500 and 3500 to classify its three models of pickup trucks. These numbers came from the first part of VINs, or vehicle identification numbers, and stated carrying capacity. Today, these numbers continue to play an important part in GMC's naming process. Other American auto makers use numbers starting with 15, 25 and 35 to designate the three classifications.
In 1989, the Sierra became the standard for full-size GMC pickup trucks after it was used for numerous loaded trim packages during the 1970s and 1980s. As of 2013, the Sierra 1500 is the star member of GMC's truck lineup, and the utilitarian Sierra 2500HD and 3500HD models are some of the strongest pickup trucks ever made; both lead the industry in carrying capacity.
Since 1902, GMC has made quality trucks as one of the auto industry's leading players. GMC vehicles continue to stay on the cutting edge of engineering, and the brand continues to evolve, offering consumers even greater fuel efficiency in both trucks and crossover vehicles, such as the Acadia crossover and the Terrain, a small SUV. GMC is today's only auto maker that presents three full-size hybrid truck models: The Yukon, the Yukon Denali SUV and the Sierra. The
Sierra Heavy Duty models
continue to be the strongest trucks on the market.