Have More Family Fun in the Sun with the 2012 GMC Terrain
With a host of standard safety and comfort features, the 2012 GMC Terrain is the gold standard of small SUVs. The Terrain offers all the advantages of a full-sized SUV in a smaller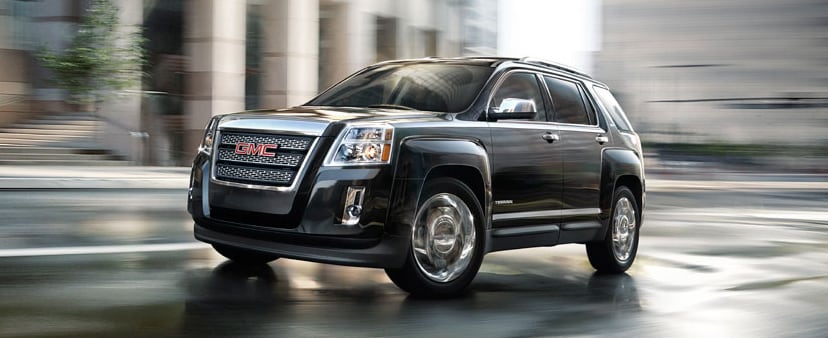 fuel-efficient package for the family on the go during the busy summer season.
With seating for five, there's plenty of room to take the Terrain on the road for the family vacation. Its ample front and back seat head and leg room mean everyone in the family can stretch out and enjoy the ride. Optional LCD screens mounted on the seats can play different videos to pass the miles.
The front seat passengers can enjoy the seven inch Color Touch Radio that is standard equipment. The audio system offers a USB port for linking handheld electronics with the vehicle. Bluetooth connectivity allows hands-free calling. The Color Touch Navigation system can be added for only $795.
Those miles will pass more quickly in the Terrain than other vehicles. With an 18.8 gallon tank and 32 miles per gallon on the highway, fuel stops will be few and far between. The 2.4L motor, 6-speed automatic transmission and StabiliTrak stability control system translate to smooth handling and an even smoother ride. For those with a boat or small camper to tow, a V-6 with 3,500 pounds towing capacity can be chosen.
GM has engineered this vehicle for a smooth quiet ride. The triple door seals and laminated glass help minimize exterior noise. Both the front side window glass and the windshield are treated so everyone in the family can use their electronics in peace. For an even quieter ride, add the Active Noise Cancellation feature.
Whether heading out for the family road trip or shuttling the kids to baseball and swimming, the Terrain's safety features mean more driving security. A system of six air bags envelops the interior in case of a crash. Six months coverage with On-Star is standard with every Terrain. Directional help, roadside assistance and an automatic crash response are all included with the OnStar package.
For even more security, Forward Collision Alert and Lane Departure Warning systems can be added for only $295. The rear vision camera is standard on every Terrain to assure safe backing maneuvers.
Like any good SUV, the Terrain offers flexibility to accommodate varied uses. The back seat moves forward and backward eight inches to fit larger cargo or longer legs. A roof rack and adjustable liftgate can be added for more hauling capacity and ease of loading. The liftgate is programmable for even more convenience.
With all the amenities of a full-size SUV and the comfort of a sedan, the GM Terrain is the ideal family fun vehicle.