Artists Fuel Buick's Innovative Style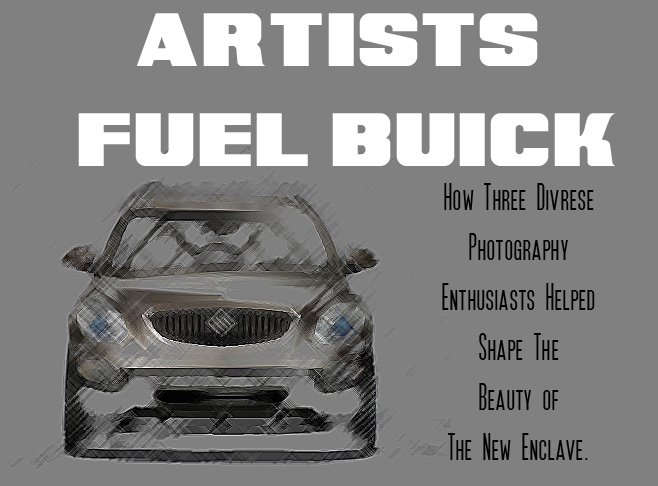 The simple, flowing elegance of the Buick line has long represented a successful marriage between artistry and engineering. Now, with the April introduction of the new
2013 Buick Enclave
luxury crossover, there is a new dimension in the artistic contribution. Enjoy the beauty of the new Enclave, and you will be enjoying in part the contributions of three diverse photography enthusiasts.
Craig Zinser, John Puskar, and Alikhan Kuljanov were all on the design team. In fact, Puskar, a fan of photographic nightscapes, was the Director of Strategic Design. John's pursuit of harmony in the creation of an image finds fulfillment in achieving that same quality in the Enclave's design as well.
Earlier in the year, Automobile Magazine observed, "Buick has pulled a complete 180 in the past five years, revitalizing its lineup with well-crafted models and attracting younger buyers." The original Enclave certainly included the younger buyer among its fans. Record sales were achieved in 2011 when the Enclave continued as the best-selling three row luxury crossover. Now, the 2013 Buick Enclave is even more of a sensory delight, with soft-feel leather, suede and wood, translucent blue headlight rings, and both interior and exterior LED lighting. The concept of accent lighting finds a comfortable home in the Enclave's spacious and inviting interior.
Credit these photography hobbyists for enhancing the new Enclave through their understanding of light and color. They know instinctively when to add color and when to subtract it. The subtle nuances of LED interior lighting are invariably enhanced by the absence of white light that might otherwise overwhelm. Puskar's observations about creating images at night relate well. He says, "Right now my passion is night photography and trying to find detail in the black and white created by darkness."
Alikhan Kulianov, a lead creative designer for Buick, enjoys many types of photography, including warm landscapes as well as black and white portraits. His mother nurtured his budding artistic interests as a child in the former Soviet Union. Alikhan says of her, "My mother encouraged me to become an artist and to define the beauty in our world."
Kulianov connects his appreciation of the rich tones of a sunrise and the warmth of the Enclave's interior appointments. He further connects his diverse photographic interests to his work at Buick when he speaks of qualities inherent in black and white portraits, "I love the character of black and white portraits. Removing color brings out a subject's true character and simplifies the surroundings. As a designer, I love simplifying my environment."
Craig Zinser is an engineer by training. Today, he is an engineering group manager for infotainment systems. Craig finds that his passion for photography introduces balance between the technical and the artistic. He feels that it directly impacts his work. Craig says, "Photography allows an engineer like me to have a creative side; it helps me look at things from different perspectives, allowing me to find unique solutions to problems I face."
Zinser's love of travel photography deepens his awareness of lighting, perspective, and detail as he photographs historic locations and various architectural forms. "I'm always looking for that one shot which captures a location and has that 'wow' factor," Craig notes.
About Buick
Buick is a luxury brand consistently attracting new buyers with warm, inviting interiors, sculpted exteriors and performance that is both efficient and responsive. Buicks also include the latest in personal technologies. Learn more about the
2013 Buick Enclave
and the entire Buick line at www.buick.com, at
www.facebook.com/buick
, or on Twitter
@buick
.