Buick's New Commitment to Safety
This year's Buick Enclave luxury crossover SUV, arriving in the fall, is the first of many indications to Buick's new commitment to safety. The two most recent models, the Buick Verano Turbo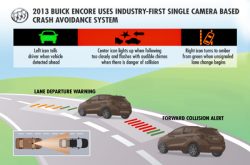 luxury sedan and the Encore luxury crossover represent the pinnacle of modern automobile safety systems.
Standard passive safety features include body structures with more than 60 percent high-strength steel as well as 10 air bags situated around the body of each vehicle. While these are typical safety features designed to protect passengers, Buick is going further in developing safety systems that prevent crashes altogether, called active safety features.
The Verano Turbo luxury sedan will be updated later this summer with these active safety features which include technology that uses audio and visual warnings as well as automatic actions that dramatically increase the safety rating of your vehicle.
The first of these features is the Rear Vision Camera, allowing you to eliminate blind spots in the rear of your vehicle when backing up. The second and third features that come in an optional safety package also focus on improving drivers' situational awareness. Both the Side Blind Zone Alert and the Rear Cross Traffic Alert share radar sensors in the rear bumper that give visual and audible cues to the driver if needed when backing up or changing lanes.
"We want to integrate our backing visual warnings onto that screen so drivers know where to look and can quickly see for themselves what's causing the war
ning," said Raymond Kiefer, General Motors Active Safety Technical Fellow. "That way, they can react quickly to what the camera, radar and ultrasonic sensors are detecting."
When backing, Rear Cross Traffic Alert senses cross traffic up to 65 feet away that may not be visible to the driver when backing out of a parking space or driveway. The driver is alerted with a red directional arrow displayed on the Rear Vision Camera screen and three directional beeps. The Side Blind Zone Alert meanwhile, cautions drivers when a vehicle is in a blind zone in an adjacent lane. All these warnings are easily discerned from visual cues on a screen, making it simple for drivers to understand their surroundings while on the road.
The 2013 Buick Encore when released will be the first vehicle of its kind to showcase an ingenious combination of safety features. Not only will it include a Rear Vision Camera, but also the Forward Collision Alert and the Lane Departure Warning. The unique part of these features is that they are based around forward mounted camera sensors instead of the rear radars. This has the benefit of being more cost effective, as well as covering a different safety hazard, namely oncoming collisions.
"Studies suggest that people can use changes in object size as they approach to estimate how long until they collide," said Kiefer. "Buick's single-camera detection system works much like a human eye, with state-of-the-art image processing equipment analyzing 10-12 scene images per second to decide if the changes in the size of a vehicle ahead suggest a crash may be just a few seconds away."
The Forward Collision Alert has versatile settings allowing for warnings from different distances. It works by giving both audible and visual warning when traveling over 25 mph. While there is an "Off" setting, most owners report that they have no need to disable their safety features. Lane Departure Warning alerts drivers when they may have crossed a detected lane marker without using a turn indicator when driving at speeds over 35 mph.