Detail Your Car Like the Pros
You can detail your car like the pros with these ten tips: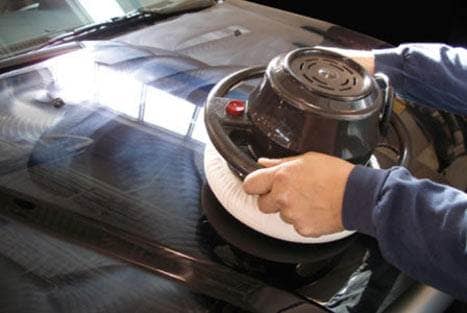 Tip #1: When Not To Do It Yourself
If your car's paint has a scratch that goes down to bare metal, let a pro handle it. Fixing a deep scratch requires an experienced hand.
Tip #2: Compressed Air to Clean Carpets
Use an air compressor to blow debris from the edges of your carpets and seats into the center, where you can easily vacuum it up.
Tip #3: Clean Air Ducts
Aim the nozzle from your air compressor at the walls of your car's air ducts. This will blast accumulated dirt and dust out, improving your car's smell. Replace or clean the cabin air filter as well.
Tip #4: Clean Your Tires With a Gentle Cleaner
Use a non-acid-based cleaner to improve the look of your tires. Acid-based cleaners can damage the finish on alloy wheels. Avoid detergents, as they can damage your car's paint.
Tip #5: Hand-wash Your Car
Hand-washing your car is more effective than an automated car wash. Use specialized car wash soap instead of dishwasher detergent, as detergent will strip the protective wax coating from your vehicle. After washing, use a rubber-blade squeegee to dry the surface of your car.
Tip #6: Clean Your Paint
Use specialized cleaners to remove contaminants that your hand wash could not remove. Begin with a chemical paint cleaner. Next, rub your paint with a block of paint-cleaning clay. Don't use a block of clay that has touched the ground.
Tip #7: Polish Your Paint
Use an oscillating polishing machine to apply paint polish. Oscillating polishing machines are less likely to damage your paint if you make a mistake than rotating polishing machines.
Tip #8: Use Wax to Protect Paint
Apply two coats of wax to your paint. A wax coating will protect your finish, absorbing stains and scratches before they damage your paint.
Tip #9: Apply Wax Periodically
Don't try to guess whether the wax coating on your car has worn off. Reapply your wax coating every three months.
Tip #10: Clean You Windows After Washing
Wait until after you've completed the rest of your detailing to clean your glass. Use a microfiber cloth and a non-ammonia based glass cleaner. Clean all glass surfaces, both inside and out.



Need a little help detailing your vehicle? Dave Arbogast has a team of dedicated professionals to help take care of your car, truck, or SUV. Give us a call, we'll get your vehicle looking new again!