The History of the Buick Brand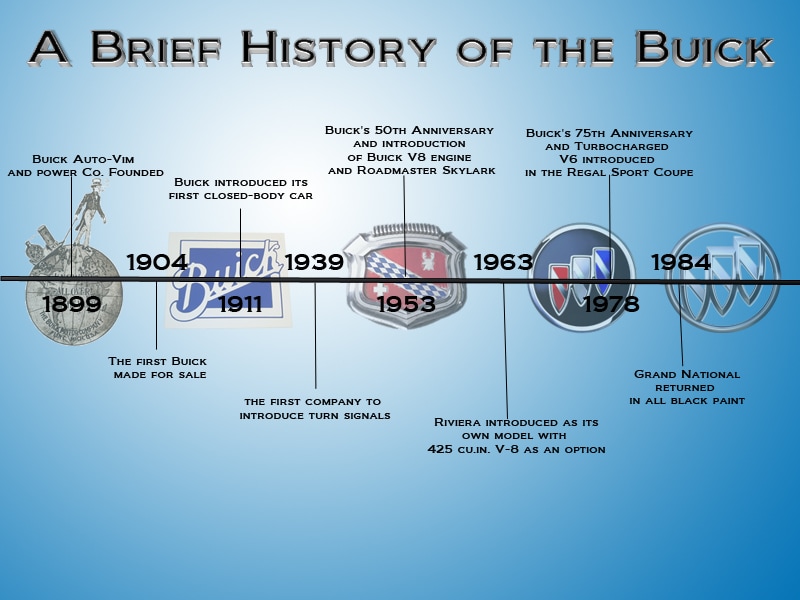 The history of
the Buick brand
is almost a statement of the history of the American automobile industry.
Founder David Buick had to hang on tight in the early days as Buick rode the unpredictable roller-coaster of world events to become not only a pioneer, but a frontrunner of automotive manufacturing.
Along with Walter Marr, Buick built his first automobile in 1900. Horses were still the norm and most people were wary of making a speculative investment in automobile manufacturing. But enough cars were appearing on city streets by 1903 that several businessmen were keen to take the plunge. In 1903, Buick found a group of wagon makers in Flint, Michigan, willing to take the risk and buy his company.
Buick fortunately attracted the aid of William Durant. Durant was the largest producer of horse-drawn carriages in the country and had several successful businesses. In 1904, he agreed to turn Buick into a viable company. Durant went to the New York Auto Show in 1905. He took orders for more than one thousand Buicks. With these orders in hand, he raised enough money from Flint's banks to build the country's largest assembly facility. By 1906, Buick was building 4,600 automobiles a year. 1907 saw Henry Ford introduce his famous Model T. Buick countered Ford's success with the Model 10. Buick produced 4,000 Model 10 runabouts in 1908, outselling both Ford and Cadillac, making Buick the number one producer of automobiles that year.
In 1908, Durant formed, General Motors (GM), the combination of Buick and his recently purchased Oldsmobile, Cadillac and Oakland companies. He also lured the famous bicycle racer, Albert Champion, from the company that bore the Champion's name and formed, AC Sparkplugs. General Motors relied heavily on the sales of the Buick to cover the costs of this rapidly growing empire.
But this emerging empire was vulnerable. Durant became financially over-extended and needed fourteen million dollars to avoid ruin. While a group of Boston bankers deliberated about loaning Durant the money, manufacturing ground to a halt. With his factory shut down, no money for payroll and bankruptcy looming, he caved and allowed the bankers to become majority shareholders. They installed Charles Nash, as GM's new president.
Durant didn't spend much time sulking. He banded together with Louis Chevrolet, forming the 'Chevrolet Company' in 1911. Durant and Chevrolet soon parted ways but their latest car, the 'Chevrolet', took off. It soon outsold GM and challenged Ford. During this time, Durant teamed up millionaire, Pierre DuPont. By 1916, with the stock he'd bought with the Chevrolet's profits and with DuPont's support, he effectively took back control of GM. He successfully steered Buick through World War I only to be thwarted by the post-war depression. He owed 27 million dollars and had little choice by to sell GM to Pierre DuPont.
The 1920s was fruitful for GM. The one millionth Buick was built in 1923. Annual production reached 260,000 cars in 1926. The Buicks of the 1920s rivaled the Cadillac in size, power, reliability and style. Suddenly it was October 29th, 1929 and Wall Street crashed. As the maker of luxury automobiles, Buick was hit hard. Buick responded by producing a more economical car line called, the Marquette. But the public never warmed to it.
The dark financial cloud started to lift at GM by 1940. It would break its 1928 sales record and sell over 250,000 cars. Buick's renewed confidence had given rise to GM's dream car. The designs featured striking aerodynamic styling, including inset headlamps, electric windows and a flush-mounted convertible cover.
America entered World War II and Buick halted construction of cars and became a part of the arsenal of democracy. Buick built aircraft engines, Hellcat tank destroyers and other military hardware. After the war, Buick produced new models and was selling more than 500,000 cars a year. Sales rose rapidly to 745,000 by 1955.
The 1958 recession saw the demand for smaller cars and Buick introduced a compact car with an aluminum V8 engine and the first production V6 engine. When the industry suffered during the early 1980s due to rising fuel costs, Buick's turbo-powered V6 helped to convince American consumers to abandon their beloved gas hungry V8s.
From its very beginnings, the Buick has impacted the whole automobile industry. It truly is the crown jewel of General Motors. Today's emphasis on quality and style holds Buick on a path that would have made David Buick and William Durant proud.