European Buick Model Coming to the States? Maybe Sooner Than We Expect...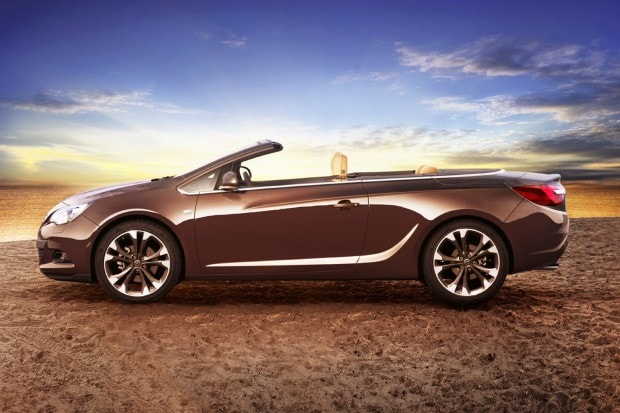 General Motors Europe has debuted the
Opel Cascada
, a luxurious four passenger convertible. Cascada is Spanish for 'waterfall'.
Should the Cascada catch on, GM may see its Opel 'Waterfall' ' produce a 'windfall" effect, meaning we could see the unit in the states in the future.
Analysts have been quick to speculate that this new European convertible may be a precursor to a long-awaited Buick convertible in the United States. Some point to a history of Opels transforming into Buicks. Others see a Buick convertible as a logical next step in that division's ever-expanding array of offerings. Additionally, the Opel takes utilizes some of the same design features as the
Buick Regal
.
In recent years the Buick line has already expanded beyond sedans to include crossovers like the large three-row Enclave and the mid-size Encore. In 2012, the Verano expanded Buick luxury and sophistication into the compact market. Now, the Cascada is being built on the same platform as the Verano. Who wouldn't imagine that we may be just one small step away from its future introduction as a Buick in the U.S.?
Should this occur, engine offerings would likely be a bit different. Cascada is available with a 2.0 L turbodiesel. Diesels are not embraced in America like they are in Europe. However, the Cascada also offers two gasoline engines, and both are turbocharged. The standard engine is a 1.4 liter, and there is also a 1.6 L Ecotec engine rated at 170 hp and 207 lb ft of torque. Turbo engines are already appearing in the Buick line as engineers continue to see them as a great way to provide power on demand while achieving excellent fuel economy in normal driving.
The Cascada is 185 inches long, about the length of an Audi A5. Both manual and automatic six-speed transmissions are available. The Cascada's cloth convertible top retracts in 17 seconds. Furthermore, it does so at speeds as high as 31 mph. Early generation ragtops often demonstrated a propensity for leakage. Invoking thoughts of falling water in this Opel's name suggests that GM is quite confident in its design!
Should the Cascada experience a reincarnation as a new American convertible, much of the luxury one would expect in a Buick is already in place. Ergonomically designed front row heated seats are included. Forward adaptive lighting is another advanced feature. Innovative technologies like lane departure warning and forward collision alert are supplemented by yet another new technology dubbed 'Opel Eye.' The 'eye' is a camera mounted on the front of the vehicle. It is designed to actually read traffic signs, and the new technology is deftly integrated with the other aforementioned safety features.
The Opel divison refers to the four-passenger Cascada as an "athletic, glamorous midsize convertible." Should this new convertible ever be re-badged as a Buick, such verbiage would suit the American market without alteration.
Perhaps one of the most interesting things about all of this is GM CEO Dan Akerson has been tied to statements about
bringing the Opel to the states
.