Synthetic vs. Conventional Oil - What's the Difference?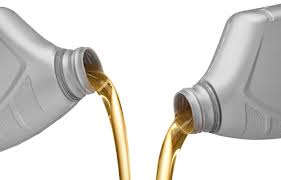 Go into any service center for an
oil change
and ask the attendant what the difference is between synthetic oil and conventional oil. Chances are he will tell you that synthetic oil is more expensive. While this is true, it is not the whole story. You had better think twice before basing your purchase decision solely on price. Here is some information to help you decide which type of oil is best for your car and the type of driving you do.
Conventional Oil
Conventional oil is the most common form of automotive oil you will find. It is a natural petroleum-based product that is made up carbon and hydrogen atoms arranged in both short and long chains. The extreme heat of a running engine can cause the short chain molecules to break down. When they do, the oil becomes much less efficient at lubrication than when it was new. Even when it is fresh, conventional oil has the tendency to become more viscous at cold temperature and less viscous at high temperature. The high viscosity of cold oil makes it flow much slower to critical engine parts that need lubrication. High-viscosity oil forces the engine to run without the lubrication it needs to reduce friction and wear until it warms enough to flow. Hot oil tends to have low viscosity. Because it is too thin, it has reduced friction fighting abilities and subjects engine parts to wear.
Synthetic Oil
Synthetic oil is a relatively new creation, but can be found in many automotive centers and stores. It is a laboratory creation that consists of a base stock call polyalphaolefin, a hydrocarbon compound that consists of a 30 molecule chain. This long-chain molecule is extremely stable. Its stability allows the oil to mostly maintain its viscosity in both low and high temperatures. This characteristic enables it to provide excellent protection against friction in temperature extremes and during intense driving conditions. An additional characteristic is synthetic oil's ability to clean deposits in your engine. A clean engine runs more efficiently and gives greater gas mileage. Finally, synthetic oil typically lasts up to two times longer than conventional oil. Despite its greater cost, less frequent changes offset the initial expense.
Conventional/Synthetic blends
A long-held misconception regarding motor oil is that once a driver switches to synthetic oil, he must always use that type. Early synthetic oils did cause engine seals to leak when alternated with conventional oils, but this is no longer the case. You can safely switch back and forth between the types. There are even conventional/synthetic blends available at most parts stores and dealerships.
Ultimately, the choice between conventional and synthetic it is up to you. How you drive your car and how much you are willing to pay for engine protection will help you make your decision.
Have a question about which oil is best for your vehicle? Need to make an appointment for an oil change? Feel free to call one of
car service
experts at 866-975-3287 or
email us
.