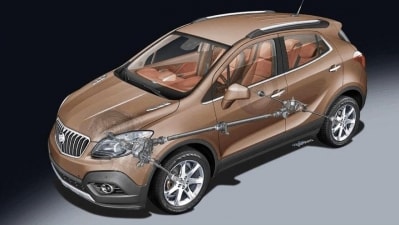 The latest model of the
Buick Encore SUV
will feature an innovative Active On-Demand all wheel drive system. The new system will send torque to the rear with every start. If there is not any slippage detected, the new system will return the Encore back to primarily front-wheel drive. The traditional system only sends force to the rear when it is a detected that the torque has slipped.
Buick's new AWD system first came to light when engineers were developing an AWD system for the luxury SUV model Buick Enclave. Due to the success of the AWD system on the Enclave, Buick made the decision to apply the system to the smaller Encore. Buick also decided to team up with Borg-Warner to produce a compact coupling system that is triggered by a magnetic charge, which allowed engineers to fit an all-wheel drive system into a compact front-wheel drive system.
The lighter weight of the Buick Encore allows the AWD system to react faster. In addition, the lighter weight makes it easier for the vehicle to control and transmit torque...