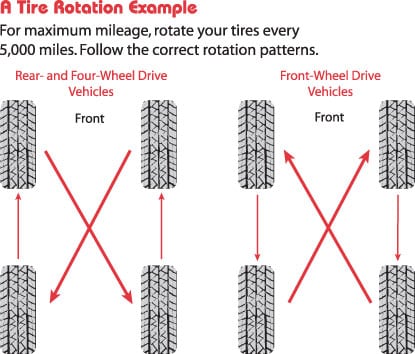 People make it a point get their
oil changed regularly
and maintain proper fluid levels, but oddly enough one of the most used parts of the car is also the most neglected. Tires are one of the least thought about aspects of car maintenance. Rotating your tires every 5,000 miles should be an important part of everyone's maintenance scheduled. But why is it so important?
Tires are expensive! Make them last! This pictures show the difference between rear wheel and front wheel drive vehicles. It's important to rotate your tires from front to back and from side to side. You can also check your owner's manual or call the Arbogast
Service Department
for the best patter rotation for your specific vehicle.
On front wheel drive vehicles the rear tires last much longer. The front tires are responsible for the steering, braking and carry the bulk of the car's weight. Because of this, they experience more wear and tear. Rotating the tires helps to evenly distribute the effects of driving on the tires. Failure to have the tires rotated causes the front tires to wear out quickly and means spending money on tires much sooner than necessary.
Front tires lean during a turn and the outside edges can feather or scallop. When the tire's treads begin to scallop the structure becomes compromised. A compromised tire structure can cause flat tires and other forms of tire failure. While there are other factors to consider when the tires begin to scallop, the majority of cases are the result of not rotating the tires...