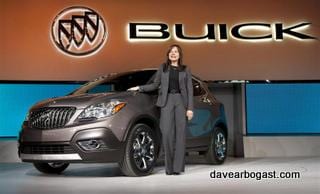 Buick's success in recent years with the large crossover, the Enclave, meant it was only a matter of time until a two row crossover would be introduced. The
Buick Encore
is a great choice for those who prefer the elegance and look of a Buick but don't need the capacity of an Enclave.
As is the case with current Buick models in general, even a 'base' Encore is loaded with features.
GM's Intellilink
system is standard, which includes both Bluetooth and iPod connectivity. The image produced by the rear view camera is displayed on a large 7 inch Color LCD screen.
Buick is continuing its commitment to safety
with a total of ten airbags, forward collision alerts, land departure warnings and OnStar.
The 2013 Encore offers an extremely quiet ride. This is due in part to an innovation called 'active noise cancellation.' Noise patterns are countered through audio patterns broadcast through the Encore's speaker system. Sound deadening materials throughout the vehicle as well as the use of an acoustically absorbent headliner also enhance the quiet ride of the 2013 Encore...