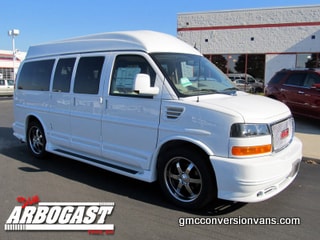 When you are ready for a conversion van experience like no other, step up to the refined luxury and unparalleled detail of the Elite Edition line of
conversion vans from Southern Comfort
. These vans have it all, from the eye-catching exteriors to the plush and immaculate interiors.
From your first look at this van, you know that it is something special. Everyone will want a second (and third) look when you drive by in one of these beauties featuring an impressive mesh grill in the front, sleek painted bumpers, vented side fenders, and 20 inch rims surrounded by top of the line Nitto tires. No detail is overlooked - even the windshield wipers and door handles are painted and designed to accentuate the gleaming exterior. Customers desiring an even higher level of customization can even upgrade the already impeccable exterior paint with a stripe or fade effect.
The inside of a Southern Comfort Elite Edition conversion van cradles you in luxury and convenience with stand out features like beautiful polished beech wood accents, plush and durable Berber carpeting, exquisite dual tone leather captain's chairs, privacy enhancing window shades and a fully powered sofa seat that can fold down to make a super convenient bed. Another highlight of the luxury interior is the huge Visio 27 inch HD TV which features a LED screen and is accompanied by a high powered Kicker sound system. Your Southern Comfort van can also be upgraded to include additional features like satellite television and wireless headphones.