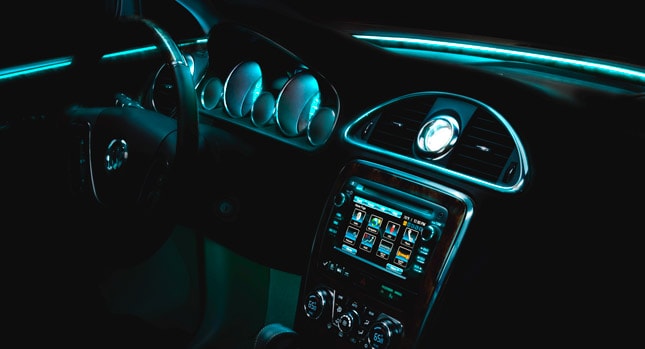 Today's luxury vehicles boast a host of features that didn't exist even a few years ago: adjustable petals, remote start, key-less entry, and air conditioned seats. Luxury car makers, including BMW, Jaguar, Mercedes-Benz, and Bentley, continue to include more advanced features on their vehicles each year. Ambient lighting is one of the newest features that has come to define vehicle luxury, and car enthusiasts can find this luxury element in a somewhat surprising place:
Buick
.
Buick is quickly making a comeback in the automobile industry and has turned into GM's luxury brand. Beginning in 2009, Buick produced a car that featured ambient lighting. Its LaCrosse had a strip of ambient lighting that circled the dashboard. Buick's foray into ambient lighting resulted from years of research into the use of lighting in interior design. In extravagant homes, special soft lighting was used to set the mood and offer subtle illumination.
Buick's designers and engineers applied the same concepts to the creation of their vehicles' interiors. The result was lighting that enhanced the driving experience by creating an inviting interior. The warmth of the ice blue ambient lighting complements the lights of the car's gauges. Blue hues have a lower color saturation and are easier on the eyes, which can create a serene mood...