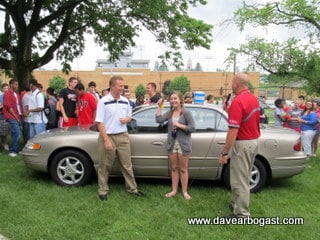 Who ever thought having perfect attendance could pay off so well? Just ask Troy High School student Ivy Smith.
Thanks to not missing a single day of school this year, Ivy was rewarded with a free 2000 Buick Regal courtesy of Dave Arbogast Buick GMC RVs.
Each year, Troy High School enters all the names of students with perfect attendance and draws a name. The lucky winner then receives the keys to a free car. In addition to winning the car, Ivy now also gets free carwashes for life.
Ecommerce Director Blake Arbogast said the team at Arbogast always appreciates an opportunity to give back to the community. "This is my third year being involved with the perfect attendance drawing and it's always a blast," Arbogast said.
After winning her new Buick Regal, Ivy called her mother who at first, didn't think her daughter had really won. Coincidentally, Smith won't be able to jump in her new car right away. "I don't get my license until later this summer," she said.