This year's Buick Enclave luxury crossover SUV, arriving in the fall, is the first of many indications to Buick's new commitment to safety. The two most recent models, the Buick Verano Turbo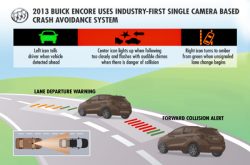 luxury sedan and the Encore luxury crossover represent the pinnacle of modern automobile safety systems.
Standard passive safety features include body structures with more than 60 percent high-strength steel as well as 10 air bags situated around the body of each vehicle. While these are typical safety features designed to protect passengers, Buick is going further in developing safety systems that prevent crashes altogether, called active safety features.
The Verano Turbo luxury sedan will be updated later this summer with these active safety features which include technology that uses audio and visual warnings as well as automatic actions that dramatically increase the safety rating of your vehicle.
The first of these features is the Rear Vision Camera, allowing you to eliminate blind spots in the rear of your vehicle when backing up. The second and third features that come in an optional safety package also focus on improving drivers' situational awareness. Both the Side Blind Zone Alert and the Rear Cross Traffic Alert share radar sensors in the rear bumper that give visual and audible cues to the driver if needed when backing up or changing lanes.
..