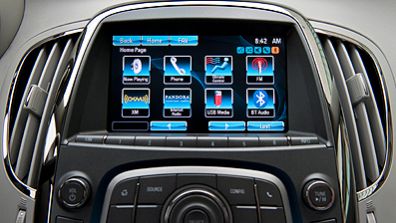 Exciting technological advancements announced for the 2012 Buick Verano and the 2013 line-up! The hottest new trend in music is Pandora,
the satellite radio application which allows users to listen to streaming music uninterrupted. Similar to the way that Sirius and XM Radio once were.
Buick announced its new IntelliLink Infotainment System in April of this year. The IntelliLink System is designed to allow the driver to access and control a Smartphone or other USB device via steering wheel controls, voice activation or the touchscreen.
This is an added convenience for drivers, and an advancement in technology, but it is also seen as a step forward in safety making is easy for the driver to keep their eyes on the road at all times and off of their phones and other devices.
Other automakers have announces similar new features on their new models including Mercedes, BMW, and Mini Cooper. Buick is definitely stepping up their game to bring you a cutting edge product from all facets. New interior and exterior styling, as well as redesigned functioning systems like the IntelliLink system...