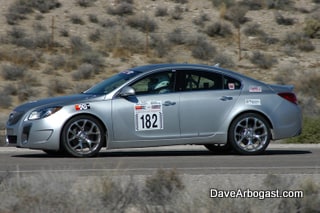 At the Silver State Classic this weekend, Buick whipped out a 2012 Buick Regal GS. In lesser words, they dominated. They may not put out cars for racing as well as Chevrolet or Ferrari or Porsche, but this car was just as stunning as could be. When it was all said and done they won first prize.
This road rally is a high-speed achieving 90-mile stretch of Nevada State Highway 318, and ends roughly 120 miles north of Las Vegas. The drivers must maintain a average speed which is set by the officials. No matter what the terrain gave them, and no matter how sharp a curve was. They had to finish the course in atleast 45 minutes, 0.019 seconds, and average a speed of 119 mph.
The 120mph class of the SSSC is where the 2012 Regal GS found itself, so they had to maintain that time frame. Not only did they win Best In Class, but they placed higher on the roster than 34 other rookie teams. That gave them to privilege of winning the Most Accurate Rookie award, and being able to hold that crown for a little while...