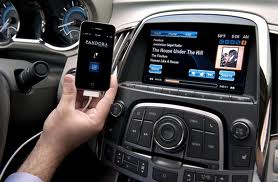 Gone are the days when a cell phone was chosen purely by its ability to place and receive calls. With the advent of the smartphone, having apps that combine practicality with functionality are swiftly becoming the norm. Smartphones such as the iPhone and Android allow us to read the newspaper, watch YouTube videos, and get directions all with the touch of a button.
GM is looking to cash in on the smartphone craze, and directly compete with the Ford SYNC, with its MyLink system that is scheduled to come out later this year on Chevrolet models, and will soon be expanding it into the Buick and GMC brands. It is being changed to IntelliLink for new Buick and GMC models, but will be virtually identical to MyLink. The newest models to feature this top of the li
ne technology are the 2012 Buick Regal, LaCrosse, and Verano, and the 2012 GMC Terrain.