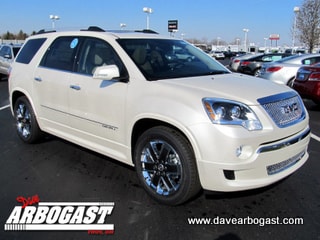 Get ready to be happy; the GMC Acadia Denali is here. Yes, you should go back and read that first sentence again to let it sink in. GMC has combined their newest super star with a name synonymous with quality. The highly anticipated new addition to the Denali line is here at Dave Arbogast Buick-GMC and there selling like hot cakes!

It brings with it all the incredible Denali characteristics you have come to love in the passed 12 years. For those of you who wonder what these characteristics are I'll give you a hint; chrome, lots of stylish chrome, and so much more. In fact, the Yukon Denali and its stylish additions were so popular they gave birth to the beloved Cadillac Escalade. The addition of the Acadia Denali is a breath of fresh air to the Denali name.
The Acadia is the second most successful member of the GMC line. So, this upscale crossover was an obvious choice to trick out in Denali fashion. The Acadia Denali comes with many standard features, such as a heads up display (which makes you feel like your flying the Millennium Falcon from Star Wars), bi-xenon headlamps, moon roof, and leather wrapped, wood grain steering wheel...