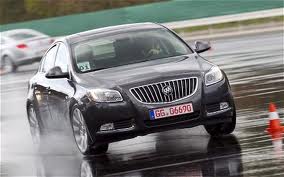 When 24-year-old Caley Webber of Florida first saw the all-new Buick Regal CXL Turbo she couldn't believe it was a Buick. The recent college graduate and insurance adjuster said she'd never considered buying a Buick, but the sleek sporty sedan Webber test drove changed her perception.
"I knew I had to have one," Webber said of the Regal Turbo. "It's cool and young and looks way more expensive than it actually is. Now, all of my friends love my car."
Such positive word of mouth about the Regal, not to mention the Buick LaCrosse and Enclave, helped to boost Buick's total annual sales 40 percent last year, making it the fastest-growing major automotive brand in the United States.
"One key to Buick's recent success is the execution on the products," said David Cole, chairman emeritus of the Center for Automotive Research in Ann Arbor, Mich. "They are terrific and the word is getting around."