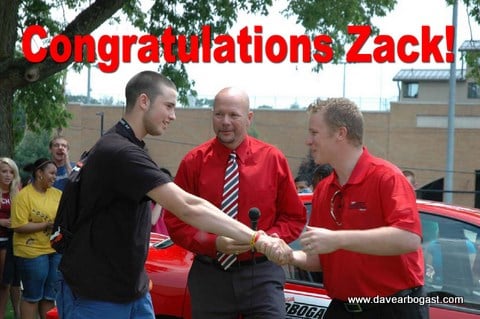 Congratulations to Zack Rohr, a Troy High School sophomore, for winning this year's donated car from Dave Arbogast for perfect attendance! Zack, age 16, was randomly selected out of 107 students from THS that have never missed a day of school or shown up late. That amazing record paid off for Zack as he was awarded a bright red 2002 Chevy Cavalier on Thursday, May 27, 2010.
For eight years now, Dave Arbogast Buick GMC Auto Sales has been happy to award a vehicle to a Troy High School student with perfect attendance. It's especially fun for Blake Arbogast who is a graduate of THS himself. Blake and the rest of Arbogast employees look forward at the end of every school year to congratulating a lucky and deserving student.

This win was especially rewarding for Zach, as he has been borrowing a friend's car to get to and from school every day after wrecking his own car last fall. However, this big win won't stop the sophomore from going to school every day on time. He said, "I just like school. It's a place where you can see your friends and have fun, so that's why I'm here every day. And I'll still come every day."
Zach and Blake Arbogast were equally excited as the keys were handed off. The attendance record of this young student and the generosity of Dave Arbogast Auto sales are both impressive.