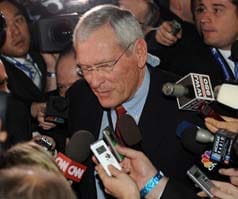 This morning, General Motors Chairman and CEO Ed Whitacre confirmed that the company has paid back a total of $5.8 billion in federal loans a full five years ahead of schedule. Whitacre attributed the company's ability to make the payment, with interest, to its new strategy and the success of new models like the Buick Lacrosse.
GM received some $50 billion in loans from both the U.S. and Canadian governments, with the majority of those funds converted into company stock. The remainder totaled over $8 billion owed to the U.S. and Canadian governments, all of which has now been paid back less than a year after GM emerged from bankruptcy. The news was announced at a press conference at the company's Fairfax, Kansas manufacturing facility, which will soon add production of the hot-selling Chevrolet Malibu, and was attended by Kansas Governor Mark Parkinson and other members of government.
As it is, the federal government still owns 60.8 percent of GM, which means that whenever the company issues its IPO, the tax payers could easily get all of their money back.
[
AutoBlog
]