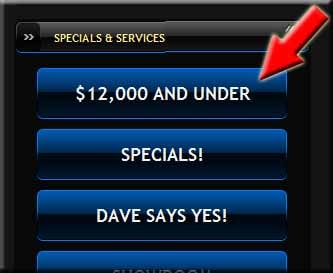 On DaveArbogast.com we are constantly working to make your research process easier, and quicker. We realize that people search for the vehicle they wish to purchase is several different ways. Some know the make, model, mileage, color, trim level.. etc.. everything about the car they're searching for, while others are a little more open.

After doing this for so many years, it has become clear that for most of us, price is a major factor in what we're seeking. Some dealers just don't get it but Arbogast does!
We get it, and we have designed our site to give you every option we can think of to get you to the right vehicle. That means in addition to search criteria like "Make", "Model", "Year", "Mileage", and "Bodystyle", we have added the "Price" category.


So, if you are sort of open about your next vehicle, but not open at all about your budget, you can see each and every model available in your price range. We even created a completely separate page displaying all of our vehicles for sale under $12,000. On the Dave Arbogast homepage, just click the "$12,000 and Under" button, and you are in!