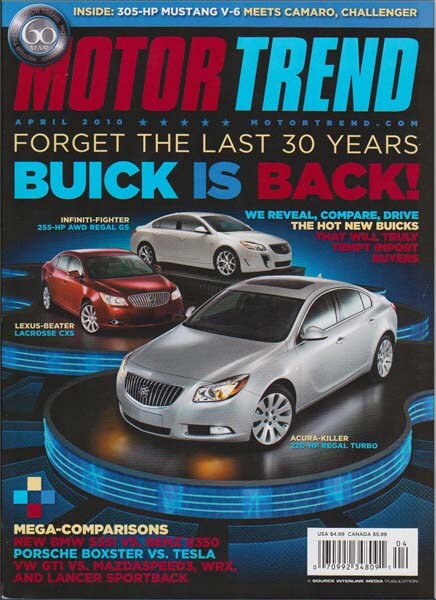 For the first time in 28 years, Buick is all over the front page of Motor Trend magazine. The headline declares "Buick is Back!" The April issue features photos of the new Lacrosse, Regal Turbo, and the Regal GS Concept car.
The April issue of Motor Trend magazine includes two Buick features. The first being a drive review of the new 2011 Regal and the other being a comparison of the 2010 Buick LaCrosse and the 2010 Lexus ES350, where the LaCrosse emerges the winner. Buick is really starting to prove that it is a modern, premium brand is characterized by sculpted designs, personal technologies, luxurious interiors, and responsive performance.
The Regal will be available in Buick dealerships this spring. It features a dynamic driving experience with a standard 2.4L Ecotec direct injection engine that is rated at an estimated 182 horsepower. Later this year, a 2.0L turbocharger Ecotec engine will be available with an estimated 220 horsepower. Customers will experience a number of advanced personal technologies, making it a premium sport sedan without the premium price. The pricing for the 2011 Buick Regal starts at $26,995.
The new for 2010 Lacrosse, is a luxury midsize sedan that has continued to attract buyers to Buick and the 2010 model is selling three times faster than the last generation of the LaCrosse. The car has received praise for its exterior styling and luxurious interior and features a collection of advanced person technologies; safety features that rate among the best in the industry.
In Angus Mackenzie's review of the 2011 Buick Regal, he says "the Regal is the first Buick in history with internationally chic sheet metal and sophisticated road manners to match," and that it "is truly likely to appeal to young, affluent, trend-setting import buyers."
The U.S. marketing vice president for Buick GMC said, "We are thrilled to be honored with placement of Buick models on the cover of Motor Trend." "The declaration that 'Buick is Back' attests the transformation of the Buick brand and the buzz building for the LaCrosse and Regal. It shows that we are introducing car the merit the attention of auto enthusiasts, including the editors of Motor Trend."
Visit Arbogast your Dayton Buick Dealer to receive a free copy of the new Motor Trend issue!