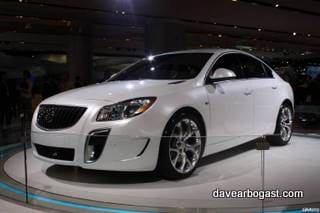 Two years ago you could have told me that Buick would be one of the star brands of General Motors and I would have laughed hysterically. Despite my status as an industry and GM follower, Buick has always been the GM brand that I looked at and said, "Oh, they still sell those?" My how things can change. Today it is becoming clearer every day that Buick is the brand to be watching at New GM.
I think a lot of people took notice of Buick back when the Enclave launched, but many people (myself included), assumed that it was going to be a one-hit wonder for the brand. After all, GM's previous brand "renaissance" consisted of a one hit wonder as well: the Cadillac CTS. Needless to say, it was easy to make the assumption that Buick's renaissance was not going to be anything worth writing home about, despite GM management clamoring over the brand's bright future.
Then late 2008 rolls around and the Buick Enclave is announced by JD Power as the fastest selling product in the United States, staying on dealership lots an average of six days or less. Most of the mainstream press failed to report that fact and rightfully so considering how long Buick has been irrelevant in North America. Reflecting back on that report today I realize that should probably go down in the books as the initial sign that Buick has some life left in it after all...