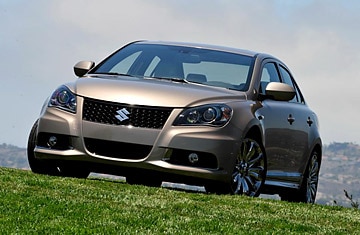 The 2010 Suzuki Kizashi continues to gather praise from consumers and enthusiasts alike. The vehicles latest review comes way of Time Magazines Most Exciting Cars of 2010. The magazine released this statement about the all new Kizashi:

Known for small cars and SUVs, Suzuki makes its first foray into the heart of the U.S. market with the midsize Kizashi sedan. The exterior styling is fresh, and the interior packs cool features such as sporty seats and a nifty instrument cluster that give the car character. The Kizashi's key asset could be its power train, which includes a new 4-cylinder aluminum engine that can be matched up to either a six-speed manual transmission or a continuously variable automatic transmission. Kizashi won't go on sale until late fall, and the price is expected to be in the low-$20,000 range. Toyota and Honda better look over their shoulders, because the Kizashi makes clear that Suzuki intends to claim a share of the midsize market in the U.S. [Time]

It is extremely exciting for Arbogast Suzuki to start seeing the new Kizashi hit the lot. The first Kizashi already came and went, no we are waiting for the next shipment. Like any new model they trickle in slowly, but soon we should have a large inventory of the exciting new sedan. Call or email are Suzuki sales department if you are interested in test driving the 2010 Suzuki Kizashi.