Undoubtedly GM will have its spies lurking around the
GMC
Granite Concept's stand at the 2010 Detroit Auto Show, eavesdropping on consumers and the media to find out the reaction to what will be the smallest GMC ever - if it is ever produced. GMC has long been the beefiest GM brand, with a big slate of SUVs and pickup trucks.
GMC teased the Granite last week but now has released such critical details as the vehicle's dimensions. It is 2 feet shorter than the GMC Terrain, with a 103.6-inch wheelbase. The Granite's 161.3-inch overall length is more than a foot and a half shorter than the 2010 Chevrolet Cobalt sedan. The Cobalt sedan has an overall length of 180.5 inches. But the Granite is taller, with a 60.5-inch height versus a 57.1-inch height for the Cobalt.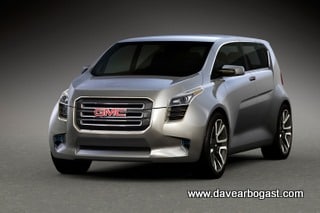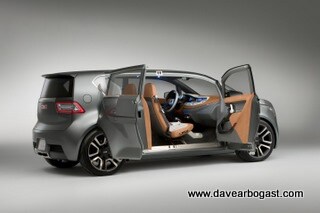 There are also exterior cues previously unheard of on macho GMC products, such as French doors. "Granite has four doors, hinged on each side to open like a set of French doors," said GMC in a statement. The automaker is referring to the Granite as an "urban utility vehicle" that blends characteristics drawn from minivans, SUVs and crossovers...