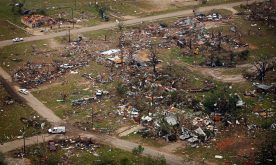 Spring tornado season has been destructive and tragic in the heartland, but it's also brought out the compassion and generosity of the American spirit.
In the wake of the recent powerful storms in North Texas and Oklahoma not only took lives, but damaged or destroyed hundreds of homes, people all over the country are already coming together to help these communities rebuild.
Many of the residences affected by the dozen or so tornadoes...