Class A Motorhomes for Sale
Dave Arbogast RV offers a wide variety of class A motorhomes for sale. Perfect for those looking for an all-in-one camping vehicle, class A motorhomes will provide you with the comfort and amenities to make your next road trip a real adventure. With a variety of floorplans, expansive kitchens, and more storage than you will know what to do with, these class A motorhomes are ideal for any RVing style. If you want to see more of the class A motorhomes that we have in stock, you can check out our complete inventory in the listing below. Or, you can contact us for any questions that you might have.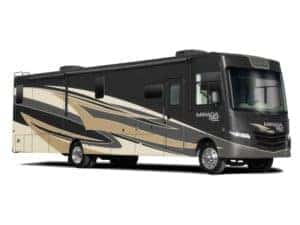 What Is A Class A Motorhome?
If you are in the market for a Class A Motorhome, you probably have already done your research but there are a lot of questions that you may not have considered. Below, we have detailed some things to consider during your search.
As the name suggests, an A-Class Motorhome resembles a bus and range in length from 25-45 feet with an average size of 30 to 36 feet. On the low end, a new Class A Motorhome costs $90,000 and $400,000 on the high end. If those price stickers are beyond your reach, consider used Class A Motorhomes. A bus or semi-truck frame serves as the foundation for Class A RVs. The motorhome builder usually builds their RVs on frames purchased from a heavy-duty truck builder, such as Freightliner.
Built with a gas or diesel engine delivering 7-13 mpg, powers a Class A camper. In a low to mid-priced RV, the manufacturer will likely place the engine in the front. The diesel models tends to have "pusher" or rear-mounted motors, which is where the term "diesel pusher" came from. When searching for a Class A Motorhome for sale, consider the advantages and disadvantages of both engine types. A diesel engine is more expensive to maintain than their gas counterparts. Gas engines require more frequent fueling than diesel. Diesel fuel can cost more or about the same as gasoline. A diesel pusher has up to three-times the towing capacity of a gas engine.
If you decide to buy a Class A motorhome and are looking for the "biggest bang for your buck", you may consider buying a used Class A camper. Depending on the size, there could be sleeping accommodations for as many as ten people. However, with any RV, this depends completely on the floorplan. The size of Class A Motorhomes, especially the larger versions, allows for greater adaptability. If you need your recreational vehicle to be more than a place to eat and sleep, you can designate space to serve as an office for those who need to keep working while also enjoying their travels.
The interior design of a Class A Motorcoach runs the gamut from modest to being a mobile mansion. Keep in mind that the more elaborate the interior, the higher the asking price. The types of available amenities include one-sometimes two- bathrooms, kitchen appliances, washer/dryer combo, entertainment center, and ample storage. These are just a few amenities that a Class A Motorhome might include.
Class A Motorhomes may have up to three slide-outs. A slide-out is a retractable room extension. When the RV is parked, deploying the slide-out(s) creates extra interior space. Bedroom slide outs are especially popular with motorhome buyers. An electric motor or hydraulic pump deploys and retracts an RV slide-out. With an electric unit, ensure the campground's electrical hook-up provides sufficient power to the slide-out motor. Keep slide-out bearings well lubricated.