Class B RV for Sale
Dave Arbogast RV offers a wide variety of Class B Motorhomes, including Airstream Interstate and Grand Tour, Coachmen Beyond, and more. You will also find a great selection of used Class B Motorhomes. No matter your needs or your budget, we will find the perfect class B motorhome for you at Dave Arbogast RV.
Located in Troy, Ohio, we are just a short drive from Dayton, Cincinnati, and Columbus. Stop by in person or browse our entire new and used Class B inventory below.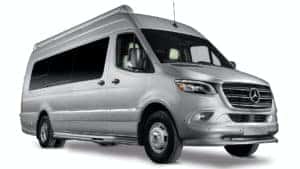 What Is A Class B Motorhome?
Class B motorhomes, also known as campervans, are the smallest type of motorhome. There are various types of class B motorhomes for sale, especially in regard to style, color, amenities, and floor plans. Most vehicles in this class of motorhomes are equipped with beds, kitchens, and wet baths. The kitchen area usually has a mini-fridge, cooktop, and sink and the wet bath has a toilet and shower. Campervans have a 25-35 gallon fuel capacity. They are, on average, more fuel-efficient than other types of recreational vehicles. Here is some information concerning the benefits of a campervan.
Advantages of Class B Motorhomes
A class B motorhome comes paired with a set of perks, especially in comparison to the other kinds of recreational vehicles currently on the market. Here are some of the size, towing, and parking benefits associated with campervans.
Size
A Class B's relatively small size makes it easier to drive in and around certain areas. For example, driving through narrow roadways and crowded streets is a breeze in a class B motorhome. As smooth as these campervans are on smaller roads and crowded streets, when on the highway you will think you are floating on air!
Towing
Though most campervans are spacious enough to fit the goods required for long-distance travel, camping, and get-away trips, they come equipped with towing capabilities. If the owners of a campervan need to haul items that will not fit in their campervan, they can attach a small trailer, using the hitch most campervans have. Some campervans have a higher towing weight tolerance than others, so it is best to check beforehand.
Parking
Campervans are relatively easy to park. Many of them will fit in a house garage so it should not be difficult to store them there. When traveling, owners should be able to park their campervan in a parking lot, a parking garage, or even on the side of a city street. Parking a campervan involves substantially less time and hassle than parking a heavier, less compact motorhome since campervans can be parked virtually anywhere minivans can.
Purchasing Class B Motorhomes
There are many class B motorhomes for sale but prospective buyers need to take certain things into consideration before making a purchase. First, they need to consider their budget. Most brand new campervans cost more than $50,000 and less than $200,000. If prospective buyers do not have a budget that will allow them to buy a new campervan, they may want to take a look at used class B motorhomes for sale. There are many used class B motorhomes for sale that cost less than $50,000. Note that, when looking for a campervan to buy, different campervans have different amenities and features. These amenities and features will ultimately affect the price of the vehicle. A standard campervan will cost significantly less than a luxurious one. And a campervan that has no electronic fixtures, like a T.V. or a sound system, will cost significantly less than a campervan that does.
Concerns & Considerations
It is best to carry a car emergency kit on a campervan due to the likelihood of it breaking down in a location that is remote or far from cellular service. It is also best to install a car ventilator in a campervan so that its interior can cool down while its windows are closed. Most car ventilators are affordable and can be easily installed.