Class C Motorhomes for Sale
Dave Arbogast RV carries Ohio's best selection of Class C Motorhomes for sale. Our inventory includes industry-leading manufacturers like Coachmen, Forest River, Gulf Stream, and more! Big coach or small, going on a short trip or a cross-country adventure, we will help you find the perfect Class C Motorhome!
Arbogast RV is the premier Class C Motorhome dealer in Ohio, serving the areas of Troy, Dayton, Columbus, Cincinnati, Richmond, and Indianapolis, IN. Browse our inventory below to check out our selection of new and used Class C Motorhomes for sale in Troy, Ohio.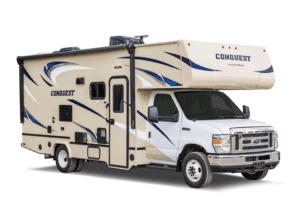 What Is A Class C Motorhome?
Of the three classes, class C motorhomes are the most popular and versatile. Class C models have several advantages over class A and B motorhomes and are often thought of as the best of both worlds. Class C campers can be equipped with most of the features of a class A with the smaller profile and handling ability of a class B. Because they are such a popular model, there is always a wide array of class C motorhomes for sale and there is usually a good selection of used class C motorhomes for sale.
Class C Motorhome Styles
Sometimes referred to as "mini motorhomes," class C models are built on a truck or van frame and therefore smaller than the class A models that are built on a bus chassis, but still larger than class B models that resemble vans. Some smaller Class C models are built on a compact pickup truck. However, class C models can be every bit as luxurious as class A or B motorhomes.
While different models have slightly different configurations, class C motorhomes are easy to identify as they have either a pickup truck- or van-style front end and a bunk that sticks out over the cab. Class C motorhomes are popular because they are easier to drive and park than class A models and some manufacturers have started building their class C models to rival the class A is size and amenities.
Class C Motorhome Handling
Because they are built on a truck frame, class C models are much easier to drive, maneuver through heavy traffic and park than Class A models. They handle like a truck and pretty much anyone who has ever driven a pickup or full sized van can hop in and drive off in a class C with no issues.
Class C Motorhome Amenities
Class C models can be surprisingly spacious given their narrower profile. Some models have slide-outs, like the larger class A models have, that drastically increase living space when set up, but keep the narrower profile while underway.
Class C models have varying levels of amenities that are more or less dependent on the size of the RV. Standard class C amenities include:
• Sleeping areas for at least four adults with a double or queen sized bunk over the cab and a dinette that folds down.
• A full kitchen with gas range and oven, a sink and a gas and AC/DC refrigerator.
• A 3/4 bath with a toilet, sink and shower.
• Overhead air conditioner with heat strip.
• A trailer hitch for towing a small boat or utility trailer.
Optional amenities in larger class C models can include:
• Additional sleeping areas.
• Bathtub.
• Microwave and/or convection oven.
• Satellite TV.
• Some class C motorhomes will have a generator to help keep the house batteries charged and run high-demand appliances. This is a very attractive feature for people who like to go camping off grid.
Class C Motorhome Engine Options
While smaller class C models, under 30 feet in length, will typically have a 350- or 400-CI engine, the larger class C motorhomes have diesel engines to provide enough power to adequately carry the larger loads.
Class C Motorhome Size
The length and weight of a class C motorhome can vary substantially, with weight being dependent on length and added features. Here are the basic size dimensions and weights:
• Most class C models weigh in at around 10,000 to 12,000 pounds.
• The typical length of a Class C motorhome is between 18 to 30 feet.
• Exterior height is approximately 10 feet.
Class C Motorhome Maintenance
Because it is constructed on a truck or van chassis, a class C model can typically be serviced and repaired for about the same cost as a large pickup truck. Most larger repair shops will be able to address the service and repair needs and do it yourselfers will have no problem working on a class C model. While there are good deals on used Class C Motorhomes for sale, just be sure to have the RV checked out by a trusted mechanic when considering used class C motorhomes.
Many RVers feel that class C models are the perfect combination of comfort, ease of operation and the ability to customize it to their particulate tastes. Class C models can be outfitted with all the conveniences of class A models, but are easier to drive and cheaper to maintain. Class C motorhomes can pull a trailer and can stay off grid for extended periods. Smaller class C models can be parked in a driveway and stored for longer periods in a backyard. Finally, when looking for a class C Motorhome for sale, don't overlook used Class C Motorhomes. Buying a preowned RV will save you thousands of dollars over the cost of a new one.