Class C Toy Hauler
We now offer a selection of Class C Toy Haulers for sale right here at Arbogast RV. Taking a trip with your big boy toys has never been easier or more luxurious! There's no better way to travel to the track or to the beach with all your toys in tow. Hauling your ATVs, kayaks, motorcycles, etc., has never looked so good. You will be the envy of all of your RVing buddies! This Class C Motorhome Toy Hauler is perfect for those looking for an all-in-one camping machine. With unique and accommodating floorplans, expansive kitchens, and more storage than you will know what to do with, these class C Toy Haulers are ideal for any RVing style. If you want to see more of the class C Motorhome Toy Haulers that we have in stock, you can check out our complete inventory in the listing below. Or, you can contact us for any questions that you might have.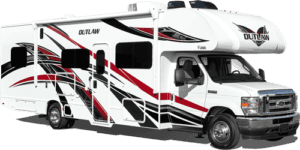 The Pleasures of Toy Hauler Class C Motor Home
Our company offers so many different types of Class C motor homes for your RVing hobbyist needs. Based in Ohio, we know the value that RVing can have for the contemporary motor home hobbyist. Driving through the great outdoors on winding roads can offer a much needed solace from the hectic world of modern day. There are few greater leisurely feelings better than parking a Class C toy hauler in the RV park and resting from everyday stressors. RV parks are located in the most beautiful and enchanting of outdoor locales. This includes riverside RV parks, lakeside parking, Yosemite camping under giant ancient rock faces, and Yellowstone National Park. There are spots for RV travelers to reside away from the hustle bustle of modern life in every major national park across the country. What a wonder it is to be an RV hobbyist.
Types of Class C Toy Hauler
When it comes to finding a Class C toy hauler for sale, it is optimal for the consumer to locate his or her nearest motor home sales business. He can find a Class C toy hauler for sale in the local newspaper classifieds or on craigslist. However, taking routes like this can often lead to purchasing lemon vehicles. If he purchases a Toy Hauler Class C motorhome from an individual owner, it is possible that the Class C Toy Hauler RV already has engine or structural issues. This is often the reason why an individual owner may seek to sell his motor home. Therefore, this mode of purchase should be avoided.
The most reputable way to purchase a Class C motorhome is by visiting a local dealership. Our dealership located in Ohio can help the consumer to choose the right Class C toy hauler for all of his RVing needs. Our RVs come with truly luxurious exterior and interior features. The exterior of our RVs come in many different colors and designs. The exterior is meant to battle against inclement weather and will always protect the interior of the structure from damage. The interior features of our RVs allow the consumer to dabble in exquisite luxury. The inside of the RVs are spacious, just like a real home. Additionally, the floor plans are designed to maximize space in the kitchen, living room, bathroom, and even the bedroom. There are cabinet and tilling options, just as in any standard house design.
Choosing the Right Class C Toy Hauler RV
There are many considerations that must be made while picking out the exact right Class C Recreational Vehicle (RV). There are purchase decisions to be made about add-ons for the interior and exterior of the vehicle.
sleeping Capacity
length of entire vehicle
Fresh Water Capacity for drinking water
Tire Size
Generator capabilities
Fuel Type – gasoline, diesel, or propane
Engine type or manufacturer
Horsepower
Fuel Capacity in gallons
Number of beds for sleeping
Number of Cooktop Burners
Water Heater Capacity in gallons for showering and hygiene
Water Heater Type – gas or electric
Electrical Service provider name
The consumer must take into consideration factors such as those above in order to make an accurate purchasing decision.
Financing Options
The purchase of a recreational vehicle is a substantial decision that must be taken into consideration in careful detail. When it comes to purchasing an RV, few consumers do so with cash in hand. Most consumers rely on bank financing options or loans in order to qualify for the purchase of a recreational vehicle. This means that the consumer has to sit down with the recreational vehicle salesperson in order to establish a realistic and effective financing plan. More often than not, the consumer will be taken step by step through a loan application. Should the consumer then qualify for this loan, he will then have to sign and approve the loan. This paperwork will essentially state that though the consumer does not currently have the cash in hand to purchase the recreational vehicle outright, he has demonstrated through work history and proper credit maintenance that he is able to make timely and sufficient payments on a loan to finance the vehicle.
This type of paperwork is taken very seriously and it is through this means of vehicle loans that most recreational vehicle owners have come to acquire class c RVs. There is nothing to be ashamed of in needing financial assistance for acquiring a recreational vehicle. In fact, the standard hard working and successful professional is likely to take this route in order to purchase an RV.