Fifth Wheels for Sale
Dave Arbogast RV Depot carries the finest Fifth Wheels from industry leading manufacturers including Forest River, Heartland, and Dutchmen, and more. When you come to Arbogast RV you will see the difference in our unrivaled selection. No matter size or budget, we will find the perfect Fifth Wheel that fits your needs.
Stop in or give us a call today! You can also browse our entire inventory below!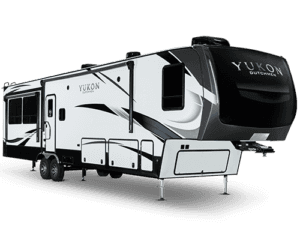 Why Buy A Fifth Wheel?
The great outdoors is a place of splendor and beauty. Millions of people every year go camping at their favorite campground but not every camp is created equal. A fifth wheel RV allows you to bring all the modern comforts and luxuries of life from home with you to wherever your travels take you.
A fifth wheel camper, also called a fifth wheel RV or fifth wheel trailer, is a type of towable camper that connects directly to the bed of a truck with a fifth wheel hitch. This in-bed towing point allows usable space to be allotted above where the truck bed normally would be. This in-turn means more interior space without extending the overall length of the trailer you are hauling behind you. And in contrast to a conventional RV, the trailer offers the added benefit of being detachable and independent of the truck you use to haul it.
Which One Fits You?
There are many varieties of fifth wheel camper to fit every lifestyle. Whether you need room for the kids to sleep, or storage for days, there is a fifth wheel which matches your needs. Finding the perfect fifth wheel for sale for your family is as simple as deciding what is important to you. The endless possibilities of fifth wheel layouts and designs makes it easy to find something that is sure to be a valued addition to your outdoor excursions.
Shopping for fifth wheel campers can admittedly be tough sometimes. Without proper knowledge and guidance, it can seem impossible to pick the right one. That's why when you're looking for a fifth wheel for sale, it can be extremely beneficial to have a subject expert, such as a fifth wheel specialist, by your side helping guide you to the perfect trailer for your needs. But even before you start shopping, it is important to know some basics about fifth wheel campers.
Size
Fifth wheel RVs typically range in length from 25 to 45 feet, a huge range of sizes. This enables you to get exactly the space you need without paying for too much. Additionally, fifth wheel trailers typically sleep between 4 and 10 people, depending on the particulars of the model you choose. Regardless of how big or small your family may be, there is sure to be model to fit your needs.
Fifth wheel campers also come in a variety of layouts inside. Whether you need private bedrooms or loads of bunk space, or perhaps some combination of the two, there is sure to be a fifth wheel camper that meets your needs. Additionally, your preferences for storage space, general layout, decorations, kitchen and bathroom size, etc., can all be met with a fifth wheel RV matched to you personally. One size need not fit all, as there are practically endless models and configurations to choose from.
The truth of the matter is, a fifth wheel is a tool. A tool to enhance your recreation time, your comfort in the outdoors, and your overall camping experience. Once you have selected the right fifth wheel for your needs, it is as simple as making use of it! One of the greatest benefits to having a fifth wheel is the ability it gives you to make your home away from home anywhere. Everything you need to live comfortably away from home is found in the fifth wheel trailer; all you need to bring is the good times. So what are you waiting for? Come check out a fifth wheel trailer today, so that next time you go camping, you can remind yourself why you're so glad you did. Fifth wheels are a game changer for anybody, allowing you to take every camping trip to the next level. Where will your next adventure be?