Priority RV Service Network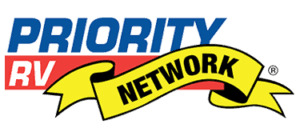 Have you heard of the Priority RV Network? It was formed back in 1997 by a group of dealers who wanted to band together to provide improved customer service for owners of recreational vehicles. They originally wanted to use their large numbers to purchase products at a discount, as well as services related to recreational vehicles and pass the savings on to their customers.
By purchasing a recreational vehicle from us, you become a member of this network. Accordingly, you can take advantage of the discounted services and benefits offered by this great organization. In this way we give back to our customers. We think it greatly increases the quality of the customer service we offer.
Priority Service
Once you are a member because you purchased your recreational vehicle from us, you are also a member of all of the other dealers in the network. This means that if something goes wrong with your vehicle while you are on the road at least 100 miles from home that requires service for your RV, your problem will be dealt with by one of the members of the network.
The first thing you should do is contact your dealer and describe the issue you are facing. After deciding whether this particular issue can be dealt with when you get home or if it requires immediate attention, the dealer will advise you as to what steps to take. He will then have you contact a network dealer who can handle the repair needed.
If you cannot reach your dealer, you are free to select a dealer yourself. Our website contains a map with the location of the dealers in the network. You can then contact your dealer of choice and set up a time to get the repair.
Repairs that are covered by a Warranty still in effect will be done without charge. Please be aware that repairs for minor inconveniences are not covered by the program. For all non-covered repairs, you will be responsible to pay for all parts and labor. The upside is that a certified RV service technician and dealer will work on your vehicle and you won't be at the mercy of an unscrupulous dealer who may overcharge you.
Priority Parts
Membership in the network also offers you both installation and specialty support services. These support services help you by enabling you to work with technicians who will help identify the parts you need for your recreational vehicle, which will ensure that it is repaired in a timely manner.
Our technicians are both friendly and knowledgeable about recreational vehicles. They are thus able to pinpoint the exact problem and offer advice on which parts will be needed for the fastest and safest repair possible.
These benefits also help you with regular RV maintenance. You can rest assured that scheduled maintenance will be performed using the best parts available for your vehicle.
This type of support will save you both time and money in the unfortunate event that you need service on your recreational vehicle. Our online priority parts store offers a wide selection of parts for many models of recreational vehicles. Manufactured by one of the leading parts manufacturers in the industry, these high-quality parts protect your recreational vehicle from premature break downs.
Our online parts inventory is one of the most complete and comprehensive in the industry, offering parts for all types of recreational vehicles.
Priority Road Care
Another benefit of the network is our exceptional road care and RV emergency service program. By becoming a Platinum Plus Priority Road Care member, you qualify for access to a wide range of services while you are on the road. Of course it covers your recreational vehicle, but it also extends coverage to all vehicles you own and even those you have rented.
You will receive roadside assistance and support, emergency roadside services and professional concierge services. The network response Road Care Team will help you arrange for fuel or fluids delivery, jump starts, flat tire changing or the delivery of new tires. They will also arrange to have a locksmith, tow truck or mechanic come to you to solve whatever roadside catastrophe you are experiencing. All of these services are available on an unlimited basis.
Membership in this program not only covers you, the member, it also covers your spouse or partner. In addition, it also covers any children who live in your household, who are licensed drivers and under the age of 25.
Priority Insurance
You are also qualified to purchase insurance underwritten specifically for recreational vehicles. This type of insurance is not generally available from conventional automobile insurance companies. A variety of plans are available, including coverage for emergency expenses, personal effects, total loss protection or vacation liability. These plans cover you 24 hours a day at a variety of prices that are a perfect fit for your budget.
You can also qualify for a discount if you are the original owner of the recreational vehicle that you insure, if you have multiple policies, and much more. The cost of this insurance will not increase for you if you make a small claim or are involved in a minor accident.
You can use the claim money from this insurance to fix your vehicle at one of the repair shops within the network, thereby ensuring that you get the best repair with the best parts possible, in the unlikely event that your vehicle needs servicing due to an insurable event.
Priority Finance
Whether you want a recreational vehicle as your permanent residence or want to be a weekend warrior, the fastest and easiest way to become an owner is through financing. To this end, the network has offered priority financing of recreational vehicles for decades.
Expert financial officers are available and will assist you with your whatever you need to finance your recreational vehicle lifestyle. You will receive informed and expert consultation based on your dreams, requests and desired results. As a financially stable network with a reputation for excellent customer satisfaction, our priority financing is more than able to accommodate your borrowing needs.
Once you contact the network, you'll be well on your way to stress-free financing of your goal of becoming an RVer.
Our priority RV network was designed and implemented to increase our level of customer service. As a member you will enjoy premium RV service and RV maintenance. You also instantly qualify for roadside RV emergency service, along with access to premium insurance to protect your investment. Finally, we offer financing to members so you can get started on your new RV lifestyle without jumping through a lot of hoops. Welcome aboard!