Super C Motorhomes for Sale
Here at Arbogast RV, located in beautiful Troy, Ohio, we are your one-stop shop for all of your RV wants and needs! Our selection continues to grow with new and exciting products. We now carry Thor Motor Coach Super C Motorhomes!
There's no better way to travel across the country than in a luxurious Super C Motorhome. These beauts are not lacking any amenities and are a sight to behold while traveling down the road. This Super Class C Motorhome is more like a home on wheels than it is an RV. With several floorplans, there's no way you won't be able to find what you are looking for. Stop by today to see our inventory in person or give us a call and we will be glad to help get you in one of these Super C Motorhomes today!!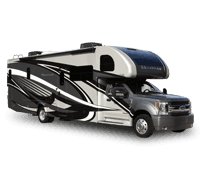 Super C Motorhomes
For some people, premium motorhomes are only class A motorhome. Well, that notion is about to change today. Ever heard of a Super C Motorhome? The answer is probably yes. Super C is built to run on diesel engines, offers ample living space, can take heavy loads. The fact that they are built on workhorse trucks makes them some of the most powerful motorhomes someone can ever wish for. However, the question that goes on in most people's minds is whether Super C can offer the same comfort and premium home as class A. It is easier to say yes, but it is also important that one gets to know how this is so. So let's find out what a Super Class C Motorhome is designed to do.
Safety
First and foremost, a Super Class C Motorhome is designed with safety in mind. The fact that this is a mobile home makes security considerations very high. Most of the vehicle weight has been put on the chassis and underbelly. The heavy metals used to do the floor plans ensure that Super C would most likely never tilt out of its center of gravity. This means that owners can drive with peace of mind to wherever accessible destination they choose.
Moreover, the fact that one can find Used Super C Motorhome attests to their safety. These vehicles are so huge that if they were to tilt over and fall, nothing usable would remain of them. However, the front design makes it safer in case of a head-on collision accident while the heavy low weight keeps them stable. Therefore, those looking forward to a budget-friendly price can consider a used Super C.
Premium Motorhome Accessories
Given that the world is fast-moving and the age of technology has caught up and perhaps overtaken this generation, how has the Super C class responded? Firstly, Super Class C Motorhome is designed to be a top luxury machine. The cockpit has modern machines and equipment for navigation, infotainment, and air conditioning. Unlike other conventional vehicles, the entire motorhome enjoys luxury class air conditioning.
The infotainment is fused with the vehicle's overall entertainment, which is a network of entertainment screens and quality sound speakers. Many designs are increasingly going for wireless connectivity. This creates a beautiful surround effect no matter what one is playing.
As for other necessities that make RV-ing practical, one will also be treated to the following top of class amenities.
• Fully functioning and well-equipped kitchen
• Premium sitting space with top of the class seats
• Practical table designs that maximize space
• Bathroom and toilets
• Big living space
• Super-sized beds
• Electronics such as flat-screen televisions and a high-quality audio system
• Large storage space in the vehicle and under the vehicleInterior Insulation
The young and old alike love to take a motorhome on an adventure holiday. Some of the concerns some have are whether this machine would be warm enough for the two of them or as a family. The answer is yes. Whether one is buying a new or a Used Super C Motorhome, one of the things that will hardly be a problem is the room temperature required of them. The reason is that the interior has been insulated very well to achieve this.
Although partition may be done using aluminum or wood, most metallic surfaces are insulated. Therefore, one can consider camping anywhere at any time. For those just coming on board and interested in finding a good Super C Motorhome for sale, this is the place. Consider checking the details given and make a good choice.
Floor and wall
Although some buyers may prefer to change their floor plans, consider the following before you issue your check. It is an exciting experience to find an attractive Super C Motorhome for sale, but it is advisable to ask all possible questions before committing to the deal.
Despite the fact that many Super C Motorhomes offer good floor plans and walls, some customers may prefer a different plan, which is fine. However, find out how much it would cost to change the floor plans. In some cases, changing the floor plans may require additional support under the vehicle.
The Conclusion of the Matter
With this information in mind, one can observe that Super C Motorhome, just like Class A, offers luxury, comfort, ample space, and modern technology and accessories. The motorhome is also practical and has a reliable engine power to go anywhere. For those considering something slightly smaller than a class A motorhome, then Super C is the thing. Get in touch today and find out what is on offer. The service and the experience one gets from this is unmatched.