Toy Haulers for Sale
Dave Arbogast RV is one of Ohio's largest RV dealers and carries the best selection of Toy Haulers for sale. From industry-leading manufacturers like Forest River, Heartland, Keystone RV, and more – there will be no problem finding exactly what you want. Luxurious or basic, looking a for a weekend trip or a long journey, no matter what you're looking for, we can help find the perfect Toy Hauler for you!
Dave Arbogast RV Depot is the premier Toy Hauler dealer in Ohio, serving the areas of Troy, Dayton, Columbus, Cincinnati, Richmond, and Indianapolis, IN. Stop in or give us a call today, or you can browse our entire inventory below.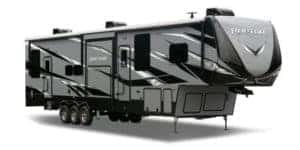 Toy Hauler Overview
Toy haulers are the ultimate choice for upgraded camping gear. It is the perfect RV choice for individuals whose camping gear includes four-wheelers, motorcycles, or dirt bikes. Besides, it goes beyond folding chairs and fishing rods. Known as the Sports Utility RVs, they provide sufficient space for motorized vehicles. Toy haulers work perfectly for individuals whose work takes them on the road and need enough space for accommodation, trade tools, and transportation means. They are the best alternative to carrying a person's toys during their trip. Ranging from basic to luxurious, the various toy haulers available in the market meet different needs. Let's have a look at the essential aspects one needs to know regarding toy haulers.
Why You Need A Toy Hauler
Individuals buy toy haulers for different reasons. For a Toy Hauler RV enthusiast, their focus is on the storage space and available amenities. Cargo space should be the last thing an individual needs to worry about. The following are a few other reasons why people need a toy hauler.
• Flexibility
Toy haulers allow people to move around with all their tools, equipment, and toys. They enable individuals to move around with their offices or work without so much hassle.
• Convenience
All customers love convenience. Having a toy hauler providing them with enough space for storage and accommodation makes it easier for their travel trips.
• Space
A toy hauler is all about space. The extra space is sufficient for individuals to carry their motorized toys and still have enough room for accommodation and amenities during their trips.
• Versatility
It is a multi-use unit allowing someone to carry everything they need for their trip, whether for business or leisure.
How To Choose The Right One For You
Toy haulers are gaining traction by the day, and with many models available, it becomes challenging to settle on one. When choosing the ideal toy hauler, there are several essential elements to pay attention to.
• Price
The cost of the toy hauler differs from one dealer to another. Individuals must have a rough estimate of how much they can afford. At this point, research is inevitable to allow price comparison and accurate decision-making. A toy hauler for sale ad gives one an idea of the price to expect.
• New or Used Toy Haulers
Whether to buy a new or used toy hauler depends on an individual's preference. If an individual is working with a limited budget, they have to settle for a second-hand toy hauler meeting their financial needs. If one goes for used toy haulers, they need to ensure it's in the best condition. Look for a dealer handling a new and used toy hauler for sale.
• Financing Options
The price of a toy hauler may require that a person breaks the bank. For an individual to avoid straining their finances, they can check out the available financing options and settle for the one meeting their needs. They should do sufficient research to compare the cost of financing and select the one they can comfortably afford.
• Type of Toy Hauler
The popularity and increased demand for toy haulers has resulted in a variety of different models. They range from a toy hauler camper to a 5th Wheel Toy Hauler. The wide range in variety gives the consumer options depending on their needs and preferences. For the serial camper, a toy hauler camper does justice to him, but a 5th Wheel Toy Hauler should be ideal if the storage space is essential.
• Reputable Dealer
The reputation of the dealer is something critical of concern. For an individual to get good value for their time and money, they have to settle for highly-reputable companies known to provide the best toy haulers. They should look at the company's rankings and compare the customers' reviews.
• Cargo Space
Toy haulers are all about the available space and what one intends to do with it. Bearing in mind that many people do not want to leave their toys behind during their trips, people should consider the amount of cargo space available.
• Amenities
Whether it is a Toy Hauler RV or not, the amenities included in it make a massive difference during its selection. People should ensure they select the best toy haulers with the required amenities to meet their needs.
A toy hauler is more than an ordinary investment. It is an all-in-one unit that allows people to carry their work and toys with them. It enables them to combine business and pleasure comfortably. People should take caution when purchasing the toy haulers to ensure they get value for their money. They need to deal with industry-leading manufacturers and dealers that value their customers. They need to be professionals with vast experience in toy haulers to increase people's chances of getting their perfect match. Whether an individual would want to carry a boat, vehicle, or other equipment for their business or leisure trip, the toy hauler is the ultimate solution.