Travel Trailers for Sale
Dave Arbogast RV boasts the best selection of Travel Trailers for sale from industry-leading manufacturers like Forest River, Airstream, Keystone RV, Coachmen, Gulf Stream, and more! From the most recognized Airstream with it's many luxurious amenities packed into several floorplans for weekend excursions or longer trips, to the abundance of floorplan options from our Forest River lineup. Big or small, for a weekend trip or a cross-country haul, no matter what you're looking for, we have the travel trailer that is perfect for you!
Arbogast RV is the premier Travel Trailer dealer in Ohio, serving the areas of Troy, Dayton, Columbus, Cincinnati, Richmond, and Indianapolis, IN.
Stop in today, give us a call, or browse our complete inventory below.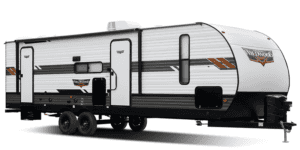 What Is A Travel Trailer?
Travel trailers serve a significant role in society. Just like other vehicles, travel trailers have continued to evolve over the years. There are new travel trailers for sale across the country, manufactured by various companies. Although some people buy new ones, others prefer used travel trailers based on various reasons. One may purchase it directly from the owner or choose to purchase it from a dealer offering used travel trailers for sale . Travel trailers can be used for various purposes such as recreation, temporary housing, emergencies, non-permanent activities such as filming and construction, among many others.
A travel trailer is designed to offer a sleeping space that facilitates more comfort and safety than a tent. It provides a place for a person, family, or group to camp in instead of relying on a hotel, motel, or tent. Another critical aspect of the travel trailer is that it is movable; hence a travel trailer enables people to stay in areas where motels/hotels are not yet established.
There are different varieties of travel trailers varying from basic types such as a pop up camper to elaborate travel trailers, which are fully equipped with furniture and other home appliances such as refrigerators, couches and recliners, full kitchens, and sometimes more than one bathroom. When contemplating a travel trailer for sale, these variances determine the price range of both new and used travel trailer for sale.
Features Of A Travel Trailer
A travel trailer may contain some of the following features depending on the model.
• Shower
• Heater
• Microwave
• Bed(s); some are convertible to dinettes/sofas
• Radio/CD/DVD/MP3 Player
• Full Baths
• Slideouts which offer the ability to extend the width of the room
• Power hook up/Electricity supplied battery
• Electric/gas-powered heater, stove, oven, and grill
• Satellite dish/television aerial
• Washer/Dryer Combos
• Air conditioners
• Wastewater tanks
• Exterior kitchens
Travel Safety Measures
Travel Trailers are made in many varying sizes according to the model. It would help if you undertook various safety precautions to ensure that your family members are safe. The travel trailers involve specific mechanical and logistics such as servicing and maintenance, route planning, provision stocking up, and park preservation. It is also essential to observe the following tips while traveling:
• Cross-check your preservations to ensure their validation.
• Make sure your planned destination is still open. This may help avoid disappointments.
• Plan and stock food and snacks.
• Plan your breaks.
Types of Travel Trailers
Folding/Pop-Up Trailers
Folding campers can be lifted using electricity or by a hand crank. Many have tent-like sides and slides that pull out for additional interior space. Some brands have firm sides, offering improved insulation and durability. The trailer is eight to twenty feet long, weighs 1000 to 4000 pounds, and can offer asleep between two to eight persons. The price of the trailer ranges from 10,000 to 30 000 US dollars.
A folding trailer has the following benefits:
• Advantages of lightweight; a variety of cars can drag the trailer.
• It is not expensive compared to other
• Fuel efficient due to low aerodynamic
• Extensions and pull-outs offer additional space for sleeping space.
• Easy to put up.
Hybrid Trailers
They are designed to enable you to use a smaller vehicle to tow with but still provide adequate occupants space. They are 18 to 26 feet long, weigh about 2,500 to 5,500 pounds, and their prices range from 10,000 to 40,000 US dollars. This type of camper generally has a slide at one or both ends, that extends to create ample sleeping space.
Truck Campers
The purpose of truck campers is to have an adequate payload capacity. They can accommodate two to four people and are 6 to 12 feet long.
There are various traveling trailers available for sale. One has to do thorough research before purchasing a travel trailer to find the one that meets their needs and budget. There are also used travel trailers for sale available. A person may opt to purchase a used travel trailer due to budget, simplicity, and variety.