Truck Campers for Sale
Dave Arbogast RV Depot is proud to carry a variety of truck campers for sale, from industry-leading manufacturers Lance and Travel Lite. With brands like Lance, Super Lite, Extended Stay, Peak 9, and Rayzr – we will have no trouble helping find the perfect truck camper for you.
Arbogast RV is the premier truck camper dealer in Ohio, serving the areas of Troy, Dayton, Columbus, Cincinnati, Richmond, and Indianapolis, IN. Stop in today and let our friendly, professional staff help you find the perfect Travel Trailer.
Stop by, contact us online, or give us a call today at 937-440-5812 today!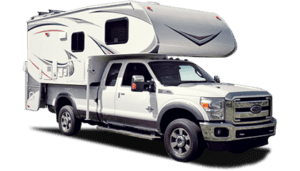 Truck Campers Overview
Pickup truck campers are an incredibly popular option that Troy shoppers should consider when searching for an RV. Our truck campers for sale can be as simplistic as an aluminum or fiberglass shell design with a bunk, or as advanced as a full-sized RV outfitted with an extensive suite of interior amenities.
Truck campers, also commonly referred to as pickup truck campers, slide-in truck campers, or simply pick-up campers, are considered to be an ideal recreational vehicle for many Dayton RV enthusiasts. The primary advantage of a truck camper is that, when placed in the bed of a full-size four-wheel-drive pickup truck, a truck camper can reach locations that a full-size RV couldn't normally get to. The two most practical reasons for investing in a truck camper are:
Easier Navigation: A truck camper can be taken further into backcountry areas, unmaintained forest preserves, or older access roads that would prove difficult or impossible for a more traditional motorhome or trailer to navigate.
Self-Sufficient: Many truck campers are fully self-contained, meaning you can be entirely self-sufficient within a pickup truck camper for weeks at a time when exploring the great outdoors or camping at your favorite wilderness fishing holes.
Because it sits in the bed of a pickup and will add just a few feet to the profile of the truck, a pickup camper is easier to maneuver through tight spaces and congested traffic, such as at campgrounds at the end of a busy weekend. Also, as the term "slide-in" implies, because it is not permanently mounted to the bed, a truck camper can be removed and left at the campsite with the use of manual or electric jacks that are mounted to the sides of the camper. This is one of the great features of a pickup camper, as it leaves the truck free for exploring or trips to town to resupply. However, it's not the only feature to look forward to on a truck camper.
Truck Camper Features
There are a variety of truck campers for sale here at Dave Arbogast in all sizes that will fit compact, short-bed, and full-size pickup trucks. Usually, the larger the camper the more amenities can be added. However, some manufacturers have become highly creative in their use of space when designing truck campers, as even many campers built for even compact trucks are fully self-contained.
Like motor homes and travel trailers, there is a long list of amenities that a truck camper can be outfitted with. However, not all truck campers will be similarly equipped. Also like other RVs, the more amenities a truck camper has the more expensive it will be.
Standard Truck Camper Features
Double Size Bunk
Queen Size Bunk
Rudimentary Kitchen
Dinette that Folds Into Sleeping Space
Optional Stove Top
Oven
Sink
Gas or Electric-Powered Refrigerator
Full-Size Pickup Truck Camper Features
Full Baths with Shower & Tub
Sink
Toilet
Holding Tanks
Over 12 Feet of Space (on some models)
Weight Capacity of 4,000 pounds (on some models)
Smaller-Scale Truck Camper Features
Weight Capacity of 1,000 pounds (on some models)
Lowering Roof
Many of the Standard Features Offered on Standard Truck Campers
Many manufactures have been adding "slide-outs" to their truck campers. These are sections that are extended when the camper is set up to provide extra living space and then stowed back away for travel. These are typically power-assisted and will slide in and out at the touch of a button. Slide-outs can be incorporated into the sides or back of the camper.
Best Reasons to Buy a Camper
With a wide range of exciting features across standard, small, and full-size truck campers, the idea of purchasing a truck camper for sale at Dave Arbogast is already enticing enough. However, not everyone in the Vandalia has experienced the joy of hitting the country roads in a truck camper available from our inventory. To those curious and courageous shoppers, we've outlined a few of the best reasons to invest in a truck camper:
Phenomenal Depreciation Value: Our adaptable truck campers hold much more value than typical RVs because there's a higher demand for campers due to their niche market and their higher-quality design. Most truck camper manufacturers such as Lance or Four Wheel Campers are industry leaders when it comes to innovation and design. It's this guaranteed quality that provides Piqua shoppers with a vehicle that will promise years of reliable service.
Easy Storage: The compact size of a truck camper ensures that storage will be less of a hassle. Not everyone has the driveway or garage space to fit a full-size RV, however, a smaller pickup truck camper can fit in a variety of locations on your property with little to no accommodations having to be made.
Lower Maintenance Costs: With a lack of running or towing gear, our truck campers for sale are the most affordable types of RVs to maintain. Just take your truck camper into our Service Center for routine maintenance. You didn't buy a camper to repair it every other week – you built it to take the people you love out on the road!
Tenacious Towing Capabilities: Many Troy truck camper owners appreciate the freedom of traveling with their home away from home and the ability to tow their belongings safely behind. With the proper outfitting and hitch configuration, towing your boat or wilderness equipment behind your pickup truck camper is easy, convenient, and doesn't even come close to impacting your living situation.
Easy Unloading: Plan on stopping and taking in the sights at a campground within Ohio? Modern slide-in and pickup truck campers come with stabilization systems and electric jacks to make unloading easier. Spend less time taking out all your gear and spend more time enjoying the great outdoors.
Fits the Whole Family: There was a time when truck campers were limited to basic sleeping quarters and simple living areas. Now modern campers, even small truck campers, come in a wide variety of styles and sizes to fit small families, groups of friends, and teams of adventurous explorers. State-of-the-art pickup truck campers typically offer a 6-person passenger capacity, expanded storage options, and theater seating.
Purchase a Truck Camper for Sale at Dave Arbogast Today!
There are many dealers that have a wide array of both new and used truck campers for sale who can help with the selection process. Before buying an RV, buyers should carefully consider how the camper will be used, consider all the options and consult a reputable dealer. If you're ready to get the purchasing process started, reach out to our finance specialists – they'll be happy to help you look for lucrative new vehicle specials guide you through the online finance application process.