Vanderhall
Here at Arbogast RV, located in beautiful Troy, Ohio, we are your one-stop shop for all of your RV, Powersports, or Boating wants and needs! Our selection continues to grow with new and exciting products. We now carry Vanderhall 3-Wheel Autocycles!
There's no better way to cruise around than in a luxurious 3-wheel motorcycle. These beauts are not lacking any power and are a sight to behold while driving down the road. Stop by today to see our inventory in person or give us a call and we will be glad to help get you cruising in style with a new Vanderhall 3-wheel autocycle!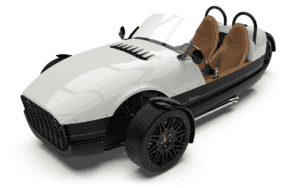 The Venice
The Parisian bikemaker Vanderhall is on the verge of pulling off the impossible with his 2022 Venice. The new two-seater 3-Wheel Motorcycle is the culmination of a decade of work and dreams.
The Venice is powered by a 4-stroke tier 4 engine that puts out 180 horsepower and 185 feet-pound of torque and rivals most modern cars on the road. This power is transmitted to the front wheels through a six-speed automatic transmission.
Interior
This Autocycle comes with a classic feel with the wooden steering wheel and the analog gauges and toggles for stereo, cruise control, traction control, and Bluetooth activation. It is bringing out the traditional style of luxury under the newer technology. The two seats are covered in tan or black leather, with an open cockpit that gives the driver and the passenger a raw and connected driving experience.
A very thick center console with knobs and toggle switches similar to those you'd find on a race car is on the dashboard.
Exterior
The Venice has a clean and simple body structure that catches the eye. The bikemaker says there is no structural bodywork between the axles, making for a closer connection to the road. This open style is more attractive than many other three-wheelers out there.
This Autocycle has a very cool aggressive, but elegant look to it. The body style is reminiscent of the original Porsche Boxster design. The front axle looks like it will rip right out of the top of the three-wheeler, and both wheels are exposed. We love the exposed design, which gives this bike a modern look while keeping true to its heritage. The wheels are wrapped in Pirelli P Zero tires that do not have much tread, giving the wheeler its compact look at highway speeds.
The windscreen looks great with its classic old-school feature.
Performance
This three-wheeler will go 0-60 in just under 7 seconds, faster than your average family sedan. The torque on this puppy is amazing, with the ability to have peak torque at any RPM. The steering is light, but you have to pay extra attention when turning because the front wheels are exposed. It has a top speed of 105mph, which is on par with the average car.
The Venice GT
The Venice GT is a more luxury-oriented version of the original. It has the same 1.5-liter turbocharged Tier 4 engine as the standard Venice but has a higher top speed, with the engine producing 194 horsepower and 203 feet ponds of torque. It's also set with a set rear spoiler and tires that are both wider and taller and give it better stability. The GT has a six-speed automatic transmission, just like the standard Venice. The seats are upholstered in black leather with matching trim, like those on a Corvette or other high-end sports car. Half of the dash is devoted to a joystick controller for all infotainment functions. The Venice GT goes for $33,950
Interior
The Venice GT interior is a bit more luxurious. There are heated seats, but they don't have the same level of massage as the driver's seat. Also, the steering wheel is more rigid and has a different cover that gives it an air of sportiness and quality. The dashboard has all kinds of electronics and buttons to control every aspect of this three-wheeler. The screen setup looks similar to your typical BMW touchscreen but with special controls for controlling and modulating infotainment functions. There are a lot more dials and buttons to control your different settings. The engine comes with cruise control, traction control, and stability control, which can all be controlled by the steering wheel up on the dash.
Exterior
The Venice GT has a sleeker and more aggressive look than the standard Venice. The front fender is still very heavy duty, but it extends out further and comes with a light bar on top. The rear of the 3-Wheel Motorcycle also has a lot of lightning holes and air vents that give it a sporty look with lots of ventilation. A small rear spoiler on the back can be manually adjusted to different angles to tell the three-wheeler how much downforce you want.
The Venice GT has Pirelli P Zero tires that have tread on them, and it comes with an optional set of Michelin Pilot Super Sport Tires.
Performance
The Venice GT has more power than the standard Venice, but it's still very manageable and easy to get around traffic. The suspension in this three-wheeler is much stiffer, making it a lot easier to ride, particularly at highway speeds. It's also much easier to throw around while changing roads and corners. the Venice GT has a top speed of 130mph, which is a bit higher than the standard Venice, and does 0-60 in 4.5 seconds
Additional options available on both Venice models include:
-LCD projector headlights
-Rearview camera with backup sensors and high beams
-Side mirrors with blind-spot screens
-Fog lights for night riding with LEDs on the fender
Many other options are available to customize your Venice how you want it.