Harley-Davidson Ford F-150 Trucks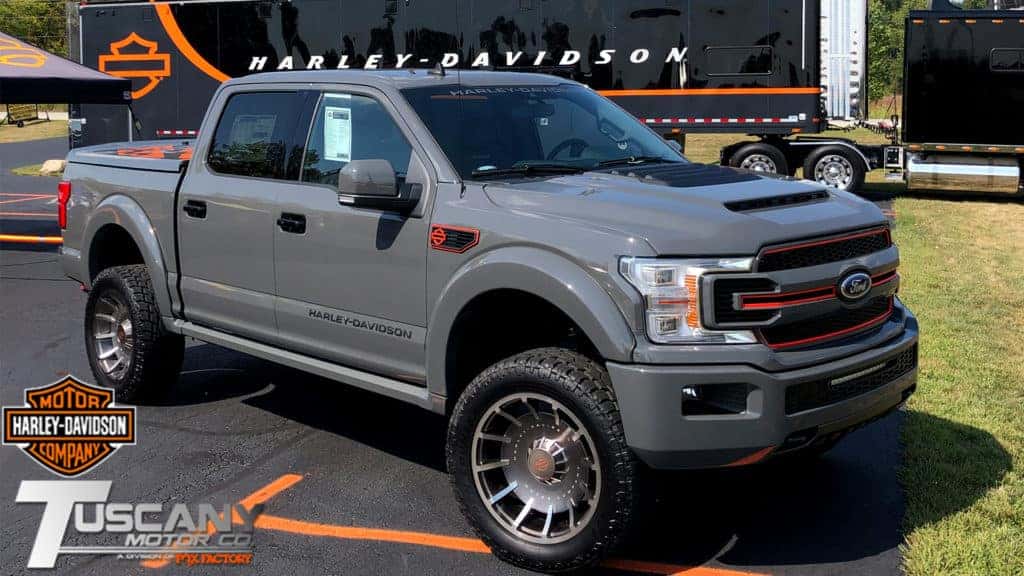 Harley-Davidson F-150 by Tuscany Automotive
Tuscany Automotive has been a long time manufacturer of custom trucks and lifted trucks. Tuscany is an industry leading, manufacturer approved, upfitter of Ford F-Series Trucks – including the Harley-Davidson F150 Lifted Truck. Inspired by the Harley-Davidson Fat Boy Motorcycle, this custom Ford truck is luxurious as well as rugged.
Ford F-150 Harley-Davidson Standard Interior Features
Custom Leather Seat Covers w/ Orange Diamond Pattern, Custom Harley-Davidson Embroidery & Badging, Accent Color Door Panels, Steering Wheel, & Dash Trim, Harley Davidson Numbered Edition Console Emblem, Harley-Davidson Logo Floor Mats (Carpeted), Harley-Davidson Logo Door Sills, Stainless Steel Harley-Davidson Gauge Cluster, Billet Racing Pedals.
Ford F-150 Harley-Davidson Standard Exterior Features
22 Inch Harley-Davidson Exclusive FatBoy Style Wheels, 35 Inch by 12.5/22 All Terrain Tires, Exclusive BDS Suspension Designed for Harley-Davidson, Fox Performance Shox (Exclusively Tuned for Harley-Davidson), Speedometer Calibration, Alignment, Tire Sensor Calibration, Power Running Boards (Lighted) w/ Rock Guard Trim, Rock Guard Painted End Caps, Custom Painted Fender Flares, Front Fender Vents (Painted) w/ Bar & Shield Logo, Harley-Davidson Lettering on Front Doors, Custom Painted Front Bumper Cover w/ Skid Plate, Full Replacement Grille Assembly Painted w/ Accent Color, Honeycomb Inserts in Bumper, Grille, & Hood, Integrated LED Light Bar (Front Bumper Cover), Tow Hooks (Front), Funtional Ram Air Hood (Full Replacement), Hood Insert (Raptor Style), Harley-Davidson Windshield Header, Performance Tuned Exhaust by Flowmaster, Billet Aluminum Exhaust Tips w/ Orange Accents, Custom Painted Rear Bumper Covers, Tailgate Cladding (Harley-Davidson Branded), Harley-Davidson Painted Tonneau Cover w/ Carpet Bed Liner & Embossed Bar & Shield Logo, Harley-Davidson Branded Bed Rug Bed Liner, 3 Year/36,000 Mile Warranty.
Harley-Davidson Ford Truck Color Options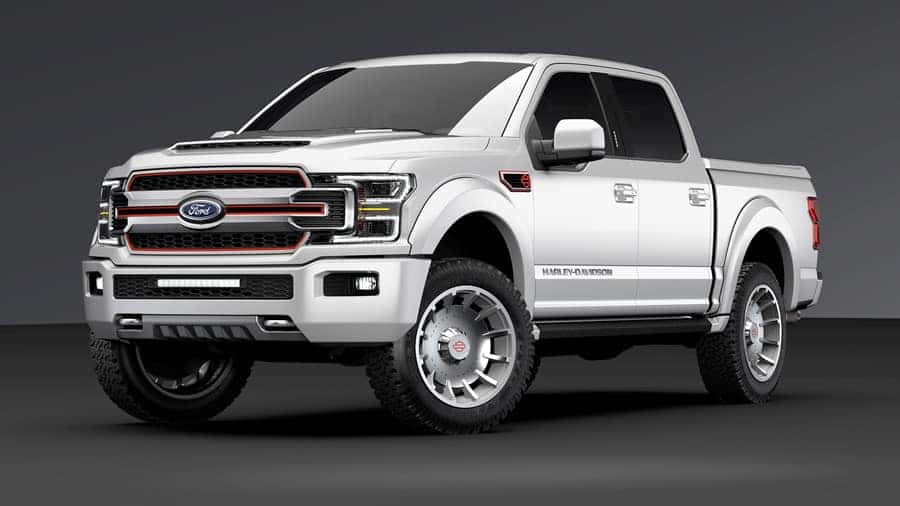 White Platinum / Light Accents
– Grill Center Accent Color
– Skid Plate Color
– Fender Venter Accent Color
– Wheel Package
– Rocker Panel badging
– Tailgate Panel color and badging
– Exhaust Tips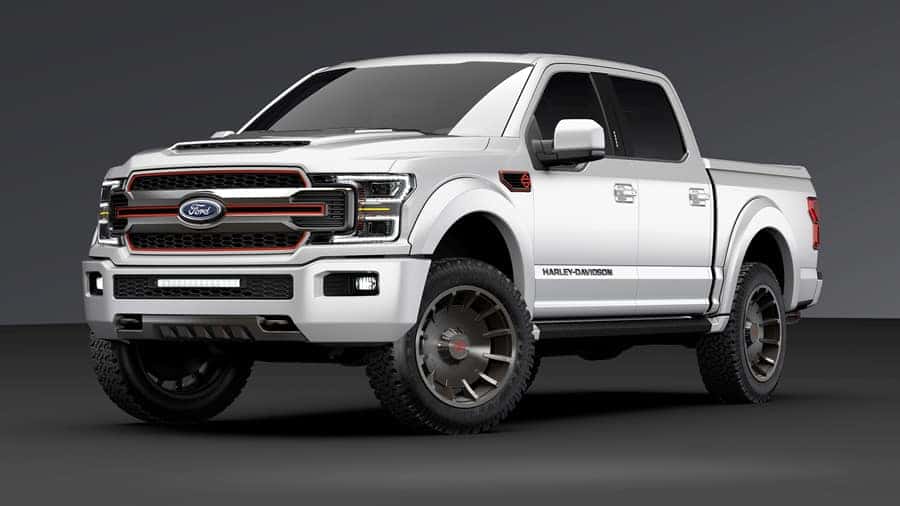 White Platinum / Dark Accents
– Grill Center Accent Color
– Skid Plate Color
– Fender Venter Accent Color
– Wheel Package
– Rocker Panel badging
– Tailgate Panel color and badging
– Exhaust Tips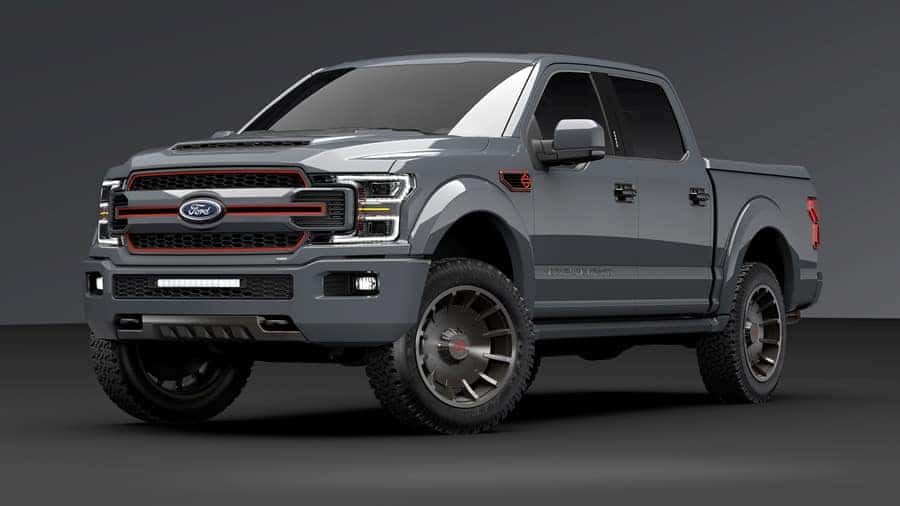 Leadfoot Gray / Dark Accents
– Grill Center Accent Color
– Skid Plate Color
– Fender Venter Accent Color
– Wheel Package
– Rocker Panel badging
– Tailgate Panel color and badging
– Exhaust Tips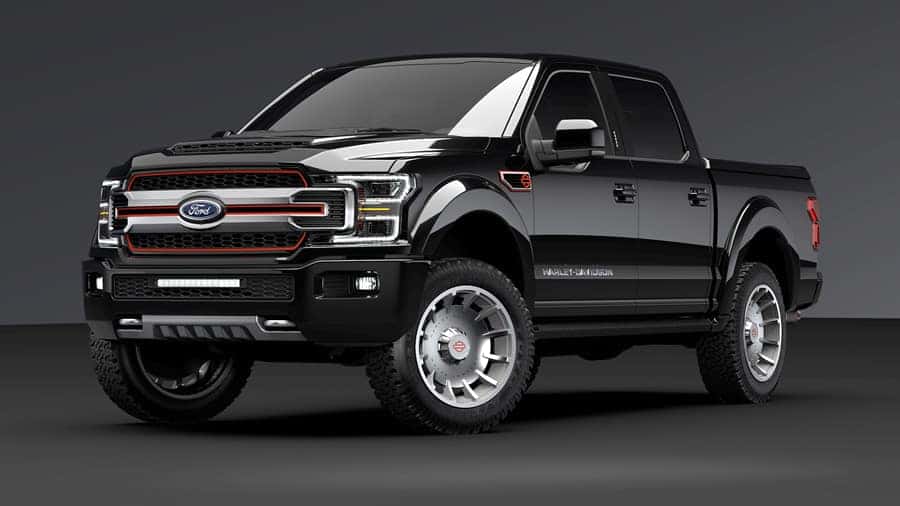 Agate Black / Light Accents
– Grill Center Accent Color
– Skid Plate Color
– Fender Venter Accent Color
– Wheel Package
– Rocker Panel badging
– Tailgate Panel color and badging
– Exhaust Tips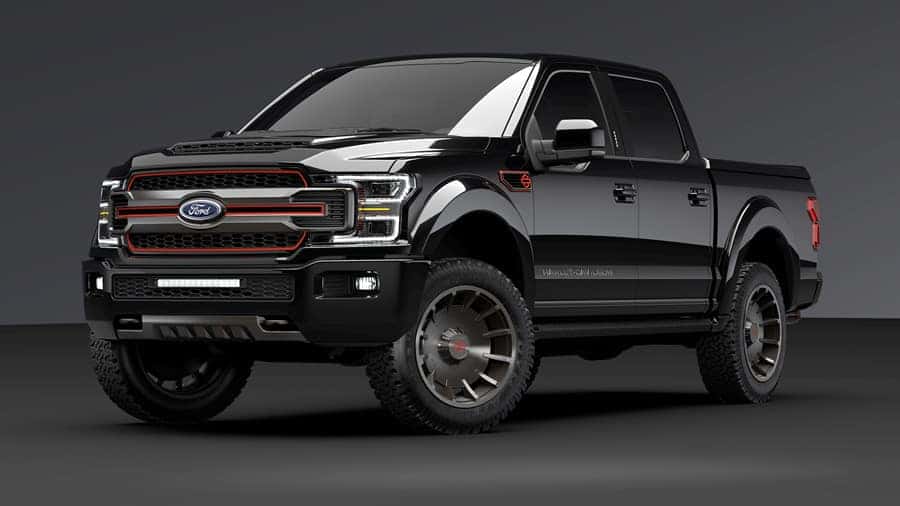 Agate Black / Dark Accents
– Grill Center Accent Color
– Skid Plate Color
– Fender Venter Accent Color
– Wheel Package
– Rocker Panel badging
– Tailgate Panel color and badging
– Exhaust Tips