JK-M Jeep by SCA Performance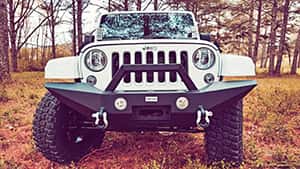 Enjoy the outdoors in style in the a SCA Performance JK-M Jeep. This Jeep brings functionality with a rugged look, on or off road. This will be a short explanation on the features of this new amazing vehicle. We will go over the stylish features, the standard features, and possible upgrades. If you are a Jeep lover, you are going to really enjoy the SCA Performance JK-M Jeep.
Styling
These lifted jeeps make a bold impression, including the standard style features. The first thing you'll notice is the unique and stylish front bumper. The lights contribute to the style. The headrests are custom stitched. You will not find similar headrests anywhere. There's also a unique windshield graphic that comes standard.Optional features that will cost most can make your Jeep look even better than it does when it comes standard. You can choose two-tone matte paint, full matte paint, two-tone rock armor paint, and full rock armor paint. You can get exterior color shading as well. You can also choose a SCA color shaded interior.
Features
The SCA Performance JK-M Jeep comes with a number of features already equipped. Some of the most noticeable features are the tall tires and lift kit. The tires are 35 inches. There's a 3 inch short arm/ long travel suspension lift. This height will allow you to manage rough terrain without trouble. This is definitely a vehicle that you can take off road! Other noticeable features include rock rails with adjustable removable side steps, and engine management calibration.
Options
There is plenty that you can do to upgrade your new JK-M Jeep. For starts, you can get even bigger wheels and tires. You can get a 20 inch wheel and tire upgrade to make your Jeep even taller and withstand more punishment. Look into even more upgrades like the performance hood vents and the snorkel. Add some light with a stinger mounted rigid industries E-Series 10 inch light bar. You can also get A-Pillar lights. Other additional options are the swing out tire care carrier upgrade, floor liners, and light covers. You can also get the color shaded D-rings with isolators. See available inventory and more about these custom jeeps at Dave Arbogast.