JK-Z1 Jeep by SCA Performance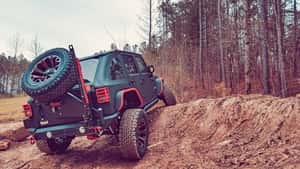 Few things in life say adventure like a jeep. These vehicles are made for off-road excursions and rough terrains. The new JK-Z1 lifted jeep by SCA Performance takes this fun-loving, rough-and-tumble vehicle to the next level by completely revamping it. The features on this new model make it the absolute best car for the most epic off-roading experience you've ever had in your life.
One of the key features in the JK-Z1 that makes it so special is the suspension. With long travel springs, this suspension is equipped to handle the roughest driving experience you can muster. Most vehicles can't be pushed to the very limits of what driving in the wilderness can bring, but the JK-Z1 can. The suspension is equipped with stainless steel remote reservoir shocks to handle the ups and downs of off-roading so you don't have to worry about rolling your jeep.
In addition to the killer suspension on the JK-Z1, these lifted jeeps are fitted with all-terrain KO2 tires. Everyone knows that off-roading vehicles need tires with traction. With deep treads, these tires keep you from slipping or sliding on the most questionable of paths so your tires will keep you locked onto your trail, whether it's gravel, dirt, mountainous, or otherwise. There's nothing this vehicle can't handle.
The JK-Z1 lifted jeep also has a steel heat reduction performance hood to keep you from over-heating. Especially when you're off-roading, you want to avoid having your radiator blow. That being the case, keeping your engine cool is a priority. This heat reduction hood will help keep the air circulating while you're driving so you won't end up over-heated and stuck in the middle of nowhere.
The rear of the jeep means business too. Attached to the rear bumper are a Hi-Lift jack, an integrated tire carrier and a full size spare wheel and tire. Accidents happen when you're off-roading and you don't want to get stuck without a spare. The SCA Performance crew has you covered with a full kit equipped to deal with any tire trouble you could have on or off the road.
Without even considering the performance and safety features of this jeep, the design is sleek and absolutely top of the line. With custom JK-Z1 badging, you can wear the model of your unique jeep in style. The car also has custom stitched JK-Z1 headrests on the interior as well as color matched interior trim designs.
If you're looking for a model that'll show you a good time, the JK-Z1 lifted jeep by SCA Performance is your vehicle. It can handle the hustle and bustle of everyday traffic along with every terrain imaginable. Check out this beauty and live your off-road dreams today.