JK-Z2 Jeep by SCA Performance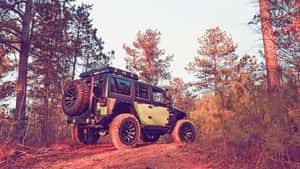 The JK-Z2 Jeep is a specialty all-terrain vehicle designed for tough tasks, rough terrain, and inclement weather. The vehicle's design ensures competent and reliable off-road performance under severe conditions. The JK-Z2 is custom-built for improved performance and reliability, making it a solid all-terrain vehicle that is capable of handling various tasks and challenges.
Exterior Features
Designed by SCA Performance, located in Trussville, Alabama, the JK-Z2 Jeep features an SCA engine management calibration system, as well as a heavy-duty adjustable suspension system designed for extreme off-road performance. The suspension system is a 3-inch short-arm/long-travel configuration that delivers durable and reliable performance under tough conditions. The vehicle features steel fender flares that give ideal ground clearance and vehicle protection. The JK-Z2 Jeep features 35-inch, BF Goodrich All-Terrain KO2 Tires mounted on 20-inch satin-black machined wheels. This combination provides adequate traction under slippery road conditions. The vehicle uses rock-crawling-style rocker guards and brake caliper covers featuring the SCA logo. The JK-Z2 features the "short" front bumper and Z-Series rear bumper with an integrated tire carrier, high-lift Jack, and D-Rings with isolators. The front bumper sports a light, 10-inch winch manufactured by Warn Industries. The vehicle is fitted with a steel, heat-reducing hood for optimal engine heat dissipation.
Interior Design Elements
The vehicle's interior features an array of custom features and amenities including, LED lighting accent, A-Pillar auxiliary light switches and painted interior accents. The interior details include a carbon fiber G2 package, custom-stitched JK-Z2 headrests, and WeatherTech floor liners.
Optional Upgrades
SCA Performance offers other upgrade packages for further customization. The optional items are:
-Snorkel Kit
-Fast Back Soft Top
-37 Inch BF Goodrich Mud Terrain KM2 Tires (Upgrade Only Available for Dana 44 Front Diff or Higher)
-Rigid Industries RDS Series 50" Roof Mount Light Bar
-Leather Seat Covers with Contrasting Stitch
-Color Shift Halo Headlights
-10 Inch Stinger Light
-Painted Front and Rear Differential Covers
-A-Pillar Cube Lights (4 – 2 Inch)
-Power Running Boards
-Exterior Color Shading
-Top and Fender Color Contrast
-Matte Two-Tone
-Full Matte Paint
-Rock Armor Paint – Full Exterior
The JK-Z2 Lifted Jeeps are versatile all-terrain vehicles that provide dependable performance in a unique custom package. This attractive vehicle offers enhanced off-road performance over rugged terrain, and under extreme conditions. The Jeep's configuration and available upgrades will satisfy ardent off-road vehicle users and enthusiasts.