Trunk or Treat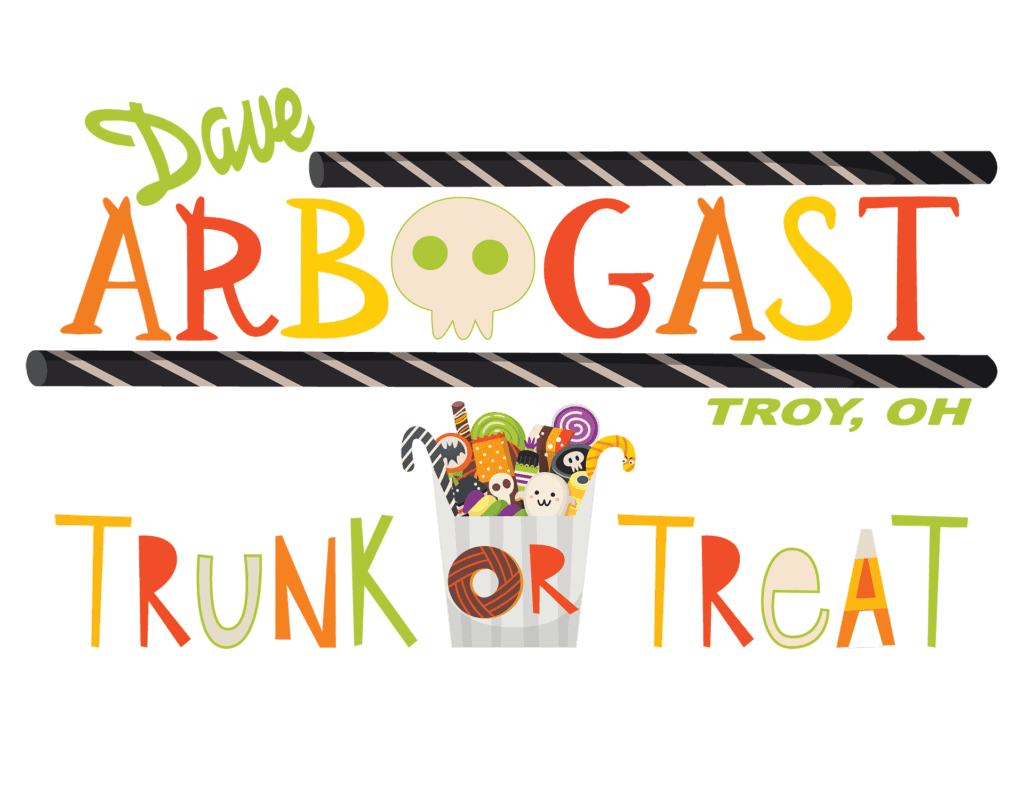 This spooky season, Dave Arbogast will be hosting their first-ever Trunk-or-Treat!! You can register your own decorated trunk, pass out candy, and be entered into a fun contest or you can just bring the cute little ghouls and goblins out to collect all the sweet treats!!
This event will be held on October 23, 2021, 1 pm – 4 pm!
What is trunk or treat, you ask?
Trunk-or-Treat is simply what it sounds like! Participants will have their cars parked in our lot and will then decorate their trunks. Our trick-or-treaters will then go from trunk to trunk collecting all the goodies!
Not only is this a fun and safe way for kids to enjoy all the fun of trick-or-treating but it is also a fantastic way to bring our community together to celebrate Halloween!
PLEASE READ & AGREE THAT YOU WILL BE FOLLOWING RULES AND DAVE ARBOGAST WAIVER.
Only pre-packaged candy/treats are acceptable. Individually wrapped prizes, trinkets or business goodies are also acceptable items. Participants must provide enough candy/prizes for one per child.
Absolutely NO political or religious advertising on candy wrappers or prizes/trinkets.
NO SCARY DISPLAYS OR COSTUMES! Spooky is acceptable as long as it is family-friendly.
All vehicles must complete a registration form to participate. Registration is FREE! No day of sign-ups! All trunk participants will receive a confirmation email with instructions prior to the event.
Registered and approved trunks may begin set up at their space (in the confirmation email) from 11:30 am – 12:45 pm. All participants must stay through the duration of the event and not move their vehicles until the event is over for safety purposes.
All Trunk displays and treats will be inspected prior to the event.
Please b courteous to your trunk neighbors and keep music volume and decorations confined to your provided space. No performances or additional games are allowed at your designated space. Keep it to display only.
An adult and/or parent must be with their vehicle at all times during the event for safety reasons.
Costumes are encouraged to enhance the look of your decorated trunk. We will be having a COSTUME AND TRUNK CONTEST for those registered trunks and individuals, and it will be judged by the public in attendance.
NO electrical support will be provided for vehicle decorations, but you can provide your own.
 You are responsible for the setup and cleanup of your space. Please have your area clean prior to leaving.
Any photography taken at or during the event of yourself or vehicle can be used by Dave Arbogast Buick GMC, RVs, and Ford stores for promotional purposes.
Masks are NOT required as this is an outside event and as long as you stay with your vehicle. You are more than welcome to wear a mask if it makes you more comfortable! We understand in these challenging times with Covid, it can be hard to keep traditions and holiday spirit alive but we are confident that we all can do this safely and effectively!
The deadline for registration is Friday, October 15, 2021, by 4 pm. Register early!!
*Participation in this program may involve a risk of injury. As a parent, guardian, or participant, I am aware of these hazards and my ability to participate. In consideration for participation in the program(s) listed above. I hereby for myself, my heirs, executors, and administrators waive and release any and all claims of damage against Dave Arbogast Group, Inc., its successors and assigns, employees, agents, and representatives for any and all kinds of injury, including but not limited to personal injury and/or property damage suffered by my child, or myself, or my ward, while participating in this activity. In addition, I give my permission for the child(ren) to be treated by qualified medical personnel in the event that the above-named parent/guardian cannot be reached at the phone number above in an emergency.