Tuscany Badlander Lifted Truck Review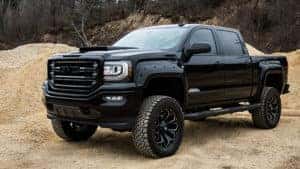 Do you need a truck that is as tough as you? Perhaps you just want to stand out on the road? No matter the reason, everyone deserves the feeling of driving something unique. Why not take a look at the Tuscany Lifted Trucks Badlander GMC Sierra? This truck maintains the professional yet aggressive appearance that so many people are looking for. The first thing you notice about this truck is its aggressive stance. This stance comes from the six-inch suspension lift. Along with the lift, the suspension is outfitted with high-quality and heavy-duty performance shocks. This suspension setup allows you to get anywhere you need to go. The 20-inch Tuscany custom black and milled wheels look great and are sporting off-road capable 325 BFG KO2 all-terrain tires. Whether your destination is on the pavement or in the dirt, this Sierra will not let you down. The Tuscany "active air" hood scoop is another great feature on the truck. This scoop not only looks amazing, it also provides real-world performance results. The Tuscany custom fender vents complement the "active air" hood scoop perfectly and makes the front of your truck really stick out from the crowd. The color matched fender flares are exactly what you need when going off-road. These fender flares make sure that your truck looks amazing anywhere you go by catching the majority of debris that occurs when you are off-roading. This Sierra has the factory badges removed and custom Tuscany badges in their places. These badges make sure that you and everyone around you knows that you are driving something extremely unique. The Tuscany tuned stainless steel exhaust sounds deep and throaty coming out of the black powder-coated exhaust tips. This exhaust inspires confidence while driving and allows everyone to know that you command the road. To account for the suspension lift, the Tuscany Badlander GMC Sierra comes with a new front-end alignment, recalibrated tire sensors, and a speedometer recalibrated by Tuscany.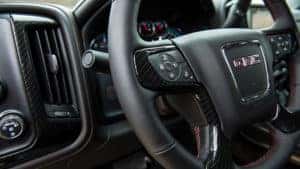 The interior of this lifted truck is just as impressive as the exterior. When you open the doors you will immediately notice the custom Tuscany seating package. You will find a professional looking Tuscany logo on the headrests and floor mats to make the interior of your truck stand out even more. The deeply tinted windows in this truck allow you to drive with ease, never having to worry about the sun hindering your vision. You will have peace of mind driving this vehicle knowing that all of these amazing custom features are backed by a 3-year/36,000 mile warranty.