Tuscany Black Ops Lifted Truck Review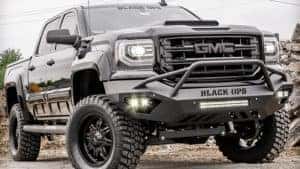 Driving the Tuscany Black Ops GMC Sierra is a great way to show off your patriotism everywhere you go. This Lifted Truck comes equipped with a capable six-inch suspension lift to ensure that you are always able to get wherever you want to go. Another suspension feature is the high-quality performance shocks which make sure that you never have to sacrifice your ride comfort. The custom 20-inch "black ops" wheels come with 325 BFG KO2 tires so that your truck never lets you down off-road. The exterior of this vehicle looks aggressive and inspiring. The most noticeable custom feature is the Tuscany "active air" hood scoop. This hood scoop looks great and also provides practicality and performance. The custom Tuscany fender vents give your truck that tough appearance. The color matched smooth fender flares will always ensure that you keep your truck clean whether you are on the road or off of it. The beautiful black billet grille perfectly compliments the black grille badge. To protect the front of your vehicle, this custom Sierra comes with a durable black bull bar which is equipped with an extremely bright 20-inch LED light bar. The back of the truck is just as impressive as the front. To ensure that whatever you keep in your truck bed is kept safe, the Tuscany Black Ops GMC Sierra comes with a color matched lockable tonneau cover with a carpeted bed liner. The custom tuned exhaust with black exhaust tips sounds powerful and demands respect on the road. This Sierra has had the chrome badging removed. In place of the chrome badges, there are custom Tuscany Badges which will always remind you of the unique vehicle you are driving. To compensate for the suspension lift kit, the truck comes with a front-end alignment, calibrated tire sensors, and a calibrated speedometer.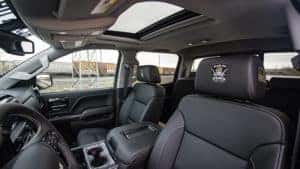 The interior of the Tuscany Lifted Truck is luxurious and impressive. The first thing that you will notice is the high-quality custom Tuscany leather seating package. The "black ops" interior accents on the floor mats and seats give a professional, clean, and custom look. The 14-piece interior carbon fiber trim kit makes the inside of your truck stand out just as much as the outside does. The deeply tinted windows are installed for your convenience in order to make sure you never have to take your eyes off the road to avoid sunlight. The best part is that all of these great features are backed by a three-year/36,000 mile warranty.