Tuscany Concept One Lifted Truck Review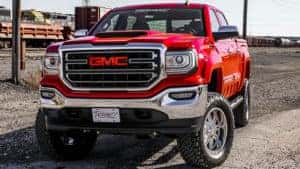 General Motors has always been an innovator in the automobile industry. The GMC Sierra is a tough, hard-working truck that will never let you down. The Tuscany Concept One GMC Sierra is no exception. This lifted truck is outfitted with many high-quality off-road performance parts. This custom Sierra comes with a six-inch suspension lift to ensure that you will always be able to go anywhere. Along with the lift, the truck comes with high-quality shocks that will make sure your ride quality is always maintained. These two suspension features alone allow this truck to excel in all types of off-road conditions. This vehicle is outfitted with 20-inch custom chrome wheels sporting capable 325 BFG KO2's. The front of the truck maintains a professional yet aggressive look and the first thing you will notice is the Tuscany "active air" hood scoop. This hood scoop makes the truck look great while diverting air to your engine for added performance. The Tuscany Badges on the side of the truck will always remind you that you are in something unique. The color matched fender flares look great and will make sure that you keep your truck clean wherever you go. The lockable color matched tonneau cover will allow you to make sure that whatever you put in the bed of your truck will stay safe. In order to accommodate for the six-inch suspension on this truck, this custom Sierra comes with power running boards equipped with rock sliders and lights. The grille of this truck is inspiring, the beautiful billet grille insert compliments the color matched grille badges. The Tuscany Concept One GMC Sierra also comes with a custom stainless exhaust and chrome exhaust tips to make sure you always get the satisfaction and performance of hearing your truck respond to your command. The truck also comes with a front end alignment, calibrated tire sensors, and a calibrated speedometer. The interior of this vehicle is just as impressive as the exterior. The first thing you notice is the high-quality custom Tuscany Trucks leather seating package.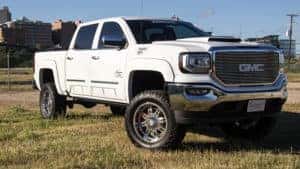 Along with this, you will see the "Concept One" headrest and floor mats. The interior is also outfitted with a custom 14 piece interior trim package in your choice of carbon fiber or body color. The windows are also deeply tinted in order to keep the sun from hindering the quality of your drive. To top it off, all of these amazing features are backed by a 3 year/36,000 mile warranty.