2020 Ford Super Duty | A Snow Plowing Champ
Best-In-Class 1400-Pound Front Plow Rating Makes 2020 Ford Super Duty the Ultimate Snow Machine 
Snow plow operators face many challenges outside of their control, with the biggest one being the weather. Making money in the snow removal business requires, first and foremost, that there be snow to remove. Since it's not yet possible to control the weather, the key to success lies in controlling those factors that can be controlled. Taking proactive steps on the operations side will ensure that efficiency is maximized once the weather does its part. One of the primary factors contributing to an efficient operation is equipment, and that's where Ford comes in with their new class-leading snow plow weight rating on the 2020 Super Duty with the Snow Plow Prep Package.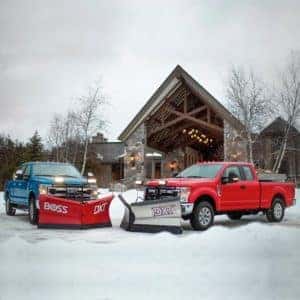 Any seasoned snow plow operator will tell you that plowing snow is tough on a pickup truck. A plow truck is subject to countless starts and stops, changes in direction and jarring of components every time a blade full of snow is pushed into a pile. Most pickup trucks are simply not designed for such duty. In order to move a lot of snow quickly, a large plow is necessary. There's no getting around the fact that a large plow that's strong enough to handle abuse day in and day out is heavy, and a heavy plow hanging off the front of a pickup truck can lead to its early demise if the truck is not designed to handle it. All that extra weight up front amplifies the stresses on the front axle and suspension, so in order to protect these parts, manufacturers establish maximum weight ratings for plows.
With the available Snow Plow Prep Package, the 2020 Ford Super Duty has a best-in-class maximum plow capacity of 1,400 pounds for gas trucks and 1,290 pounds for diesel trucks. What this means in the real world is that the Ford Super Duty can handle virtually any pickup truck snow plow in the marketplace today, and most will be handled with a comfortable margin of safety. It's common sense that a larger plow will allow an operator to move snow more quickly and complete more jobs per day. With Ford's increased weight capacity, plow operators now have the opportunity to increase their snow removal capacity substantially, which translates into a bigger bottom line at the end of the winter season.
In addition to the increased snow plow weight rating, Ford has added other features in their Snow Plow Prep Package that increase both driver comfort and safety. Heated front and rear seats are available along with a heated steering wheel. The package also includes an innovative windshield wiper de-icing system that heats the windshield directly under the wipers to keep them free of ice accumulation when the snow is falling. Showing that they recognize the needs of the industry, Ford now offers optional white or amber LED strobe lights on XL, XLT or Lariat series trucks, which means the truck is ready for service upon delivery without an extra visit to the accessory shop.
With the upgraded Super Duty, Ford has definitely moved the needle, and you can bet the competition is more than a little worried. With much of the increased snow plow capacity being inherent to the engineered design of the Super Duty, it's likely that Ford will remain the go-to manufacturer for the plowing industry for years to come. The new decade is upon us, and while we still can't control the weather, there has never been a better time for plow operators to up their game with the 2020 Ford Super Duty equipped with the class-leading Snow Plow Prep Package.