GL6 MPV Officially Revealed by Buick in China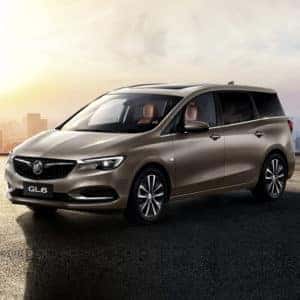 In the United States, we've seen the rapid introduction of the Enclave, Encore and Envision. These three became a winning team very quickly. These caused the automaker to raise its U.S. sales by 12 percent in 2016 alone. Now a new Buick GL6 is being added in China. Will this vehicle come to the U.S.? It's too soon to tell, but if it takes off in the world's largest market, it may find its way back here.
The Buick GL6 seats six in a compact minivan style. The Ecotec engine demonstrates flexibility and fuel economy. It is an inline four engine that generates 160 horsepower and 170 lb.-ft. of torque. Few vehicles of this size are offering a 2+2+2 configuration. The flexible cabin has independent seats. Seats can be moved 8 inches by sliding on a track. This will help parents with babies in the middle and teens on the backrow. In fact, the third row has been designed with adults in mind, and it is expected to be useful for those who have daily work carpools. Backrests can be inclined 30 degrees, allowing center passengers to find some extra comfort. These center seats also have personal armrests.
Cargo flexibility is also emphasized. The GM-PATC K platform has fold flat second and third rows. High tech features include a touchscreen with navigation, Apple CarPlay and other advanced features. These can be controlled through voice commands via a cloud-based platform. Favorite luxuries include a panoramic sunroof. There are 21 grades to give shoppers a variety of price points.
The GL6 is modeled on the popular GL8, and you can see the larger model's influence in the GL6 curb appeal. The GL8 minivan was introduced last year in China and has enjoyed success as a family hauler. The GL6 has been added to give Buick shoppers more size choices.
The new Buick GL6 MPV represents another step away from cars that Buick has made in recent years. The brand now sells more SUVs than it does sedans. It also has moved to fourth place among premium brands. At present, the American market has one three-row Buick. The popular Enclave has seating for seven. These seats are arranged 2+2+3. The center captain's chairs slide for greater utility. These American SUVs have a 266-horsepower engine that cranks out 310 lb.-ft. of torque. A nine-speed automatic helps achieve the precision needed for vehicle-best fuel economy.
As Buick expands its brand, consumers are finding more reasons to shop this premium automaker's lineup.