GMC Receives Three Key Awards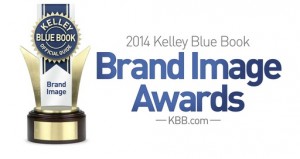 GMC had its brand and product makeover validated once again when it received three important awards at the recent New York Auto Show. While the customer ultimately votes with his pocketbook, independent awards can serve as a progress report of sorts. In terms of the former, the division's sales are on pace to exceed those of a year ago. In terms of the latter, the brand came up big in New York.
Most Refined Brand
For starters, Kelley Blue Book honored GMC with a 2014 Most Refined Brand award. According to KBB, the award recognizes outstanding achievements in creating and maintaining brand attributes that capture the attention and enthusiasm of the new-vehicle buying public.
KBB bases the award on data from its new buyer perception study. In all 12,000 in-market new-car shoppers voiced their opinions about today's carmakers. Those that came out on top are truly special in the minds of consumers. New-car shoppers particularly appreciated GMC's comfortable interiors, its interior design, and the prestige and sophistication of the brand. Because refinement is a hallmark of the brand, and because the award is based on the perceptions of actual new-car shoppers, GMC executives were especially pleased to receive it.
Must Test Drive
GMC has very high expectations for the 2015 Canyon midsize pickup due out this fall. According to AutoTrader.com they have every right to. The website named it a Must Test Drive.
AutoTrader.com said the Canyon should dispel any notion that a midsize pickup can't handle serious work. It pointed to the vehicle's nearly 7,000 lb. towing capacity as proof. The site also described the Canyon as very "Sierra-like" in terms interior comfort and tech features, noting that the interior is more pleasing than any compact or midsize pickup they'd ever seen. On the technology front, it liked the 4G LTE connectivity with built in Wi-Fi hotspot, IntelliLink, and, of course, the now famous OnStar navigation system. Finally, the site hailed the Canyon for providing an unmatched combination of tough, tech and comfort.
Most Popular
Coming off its best sales year ever, the GMC Acadia was named a 2014 Most Popular Large Crossover SUV by Edmunds.com.
The Edmunds.com award is somewhat unique in that it is based on website traffic. The site tracks vehicle consideration in 23 segments based on the number of visitors that click on its research and inventory pages. In handing out the award, Edmunds.com call the Acadia a vehicular jack-of-all-trades. Whether its hauling a big crew to the lake (boat in tow), loading large items at the local big-box store, or anything in between, Acadia can handle it all. Edmunds noted that in a highly competitive segment Acadia stands out as one of the best picks.