Innovations Continue with the 2020 GMC Sierra 1500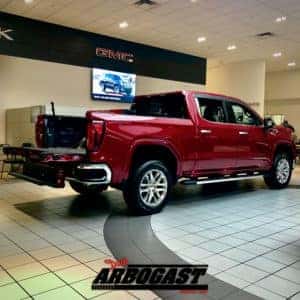 GMC has made a serious commitment to building vehicles that feature a great deal of innovation. There's definitely no overlooking the 2020 GMC Sierra 1500's long list of state-of-the-art features. From its advanced powertrains to its modern infotainment system, the new Sierra 1500 continues to display its innovation. Let's take a closer look at what makes the 2020 Sierra 1500 such a cutting-edge pickup truck.
Excellent Towing Innovations
Like so many other truck owners, you'll probably do some towing at some point. The new 2020 GMC Sierra is the perfect truck for the task. This year, an upgraded ProGrade Trailering System hits the lineup. It's specifically designed to make life easier when hauling a load. An advanced camera system provides up to 15 different perspectives, which greatly enhance the driver's visibility. No other truck in the segment offers a transparent trailer view. Navigating parking lots and merging onto the highway will be especially easy.
Along with the ProGrade Trailering System comes an in-vehicle Trailering App. With the use of this app, you'll have access to a lot of trailer-related information. Tire pressure, trailer mileage, and maintenance reminders can all viewed on the truck's infotainment display.
New Technologies for 2020
When developing the new Sierra 1500, GMC focused on giving it some of the best technologies in the class. Many drivers will be interested in the all-new Adaptive Cruise Control Camera. It helps drivers to maintain a safe following distance at all times. If you're too close to the next vehicle ahead, the system will automatically adjust your speed. This cutting-edge system can also bring the truck to a full stop.
The Sierra 1500 already featured one of the industry's best infotainment systems. However, GMC now offers next-generation SiriusXM radio. You'll be able to stream more channels than ever. This is great news for serious music fans and entertainment lovers.
Introduced in 2019, GMC's multicolor head-up display continues to impress. By projecting important vehicle data onto the lower windshield, it helps drivers to keep their eyes focused on the road ahead. Don't forget about the available Rear Camera Mirror, which dramatically limits the truck's number of dangerous blind spots.
Upgraded Powertrains
The 2020 GMC Sierra 1500 returns with some upgraded powertrains. GMC's popular 5.3-liter, V8 engine can now be paired to a 10-speed automatic transmission. This change seeks to improve the truck's overall driving experience. Whether you're on the interstate or taking an off-road adventure, look forward to enjoying an elevated level of performance.
A new 3.0-liter, Duramax turbo-diesel engine also hits the lineup in 2020. GMC tunes it to crank out 277 horsepower and 460 lb-ft of torque. Because of this engine's high torque, it's especially great for towing. Strong fuel economy also makes the diesel-powered Sierra 1500 great for daily commuting. Last year's dynamic engines are still available, including a 420-horsepower V8.
Attention-Grabbing Sierra AT4 CarbonPro Edition
When the redesigned Sierra 1500 first hit the scene last year, its modern styling wowed drivers from across the country. Expect the 2020 model to cause even more heads to turn. A refreshed Sierra AT4 CarbonPro Edition has arrived. This trim features a number of exclusive exterior treatments. A new black chrome grille surround and black exhaust tips help create an aggressive look. Modified badges further bolster the truck's curb appeal.
Great Bed Features
The Sierra 1500 was one of the first trucks to offer a MultiPro Tailgate. This innovative pickup tailgate can be used in six different ways. When on the job, it can double as a standing workstation. A built-in step also enables you to load cargo with less effort. GMC's exclusive CarbonPro Pickup Box is another great feature. An extremely durable design makes it far more resistant to dents.
Superior On and Off-Road Performance
GMC engineered the Sierra 1500 to accommodate a variety of different lifestyles. If you are seeking class-leading luxury, step up to the Sierra Denali. Its Adaptive Ride Control suspension ensures a remarkably smooth performance on the street. Its adaptive dampers instantly adjust to the varying road conditions. For serious adventure seekers, GMC offers the trail-ready AT4 model. Off-road upgrades, like a 2.0-inch suspension lift and Duratrac all-terrain tires, prepare you to tackle the rough backcountry.
If you're buying a 2020 Ford F-150 in Troy, you've got a wealth of options. As you may have read in reviews, Ford F-150 trim packages allow drivers to upgrade their vehicles for performance, technology, and whatever interior amenities may suit their needs. Learn more about 2020 Ford F-150 trims with this guide from Dave Arbogast!…

Just look around and you'll see compact SUVs are popular with Troy drivers. They're more spacious than traditional cars, offering more cargo space and seating. The 2020 Ford Escape stands apart from its competitors for a bunch of reasons, and one of those reasons is the Ford Escape dimensions. Learn more here, and then head…

For good reason, the Ford Mustang is among the most popular muscle cars in history. If you're looking to have some serious fun, be sure to check out the 2020 Ford Mustang. Some big updates transform the Mustang into an even more exciting ride. Not only has Ford introduced a new EcoBoost Performance package, but…