New Integrated Winch for the 2020 F-Series Super Duty Tremor Trucks
Introducing an upgrade in performance and power, Ford delivers a truck with efficient and impressive towing power for 2020. The new 2020 F-Series Super Duty brings rugged power and innovative technology into a perfect mix. The new Tremor Off-Road Package is clearing the way with the all-new integrated electric winch for heavy duty towing.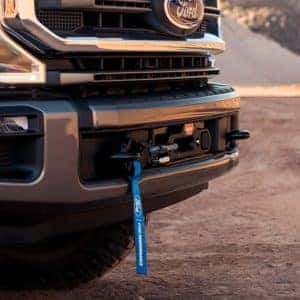 The unique winch proves that Built Ford Tough is more than just a slogan by providing incredible towing capability of up to 12,000 pounds. This new performance part will be available to add during factory orders or after sale dealer-installed accessory. What's even more exciting, the Tremor Off-Road Package with electric winch is available on both gas and diesel-powered engines. There is nothing that will be able to stand in the way of the 2020 Super Duty's capabilities on the trail or at work.
Keeping the customer in mind, Ford and Warn pulled out all the stops during the design process with both crash safety and capability while adding the new package to the 2020 F-Series Super Duty. First and foremost was making sure the electric winch was fully integrated into the truck. The winch is mounted behind a steel bumper allowing improved airflow and allowance for engine space regardless of size. To add to its durability there's a high-tensile strength, abrasion-resistant synthetic cable which allows the winch to haul almost any large machinery out of a compromising situation. Ford and Warn also included the only wireless remote control for this class of winch as well as included an option for a wired remote.
The Tremor Off-Road Package with electric winch will be offered at $3,000 MRSP starting mid-year of 2020. The maximum towing for a conventional trailer is 15,000 pounds and for a gooseneck trailer on diesels its 21,900 pounds. The F-Series Super Duty with the all-new available 7.3-liter gas engine also has a maximum pay-load capacity up to 4,210 pounds. All this combined, it provides customers with all the towing and payload capabilities for work or off-roading fun.
The Ford Performance Parts winch by Warn is available on XLT, Lariat, King Ranch and Platinum trim levels for F-250 and F-320 Super Duty trucks. The 2020 Ford F-Series Super Duty is constructed in Louisville, Kentucky and in Avon Lake, Ohio. We will be seeing these tremendous trucks soon as they are on their way out to dealers now!